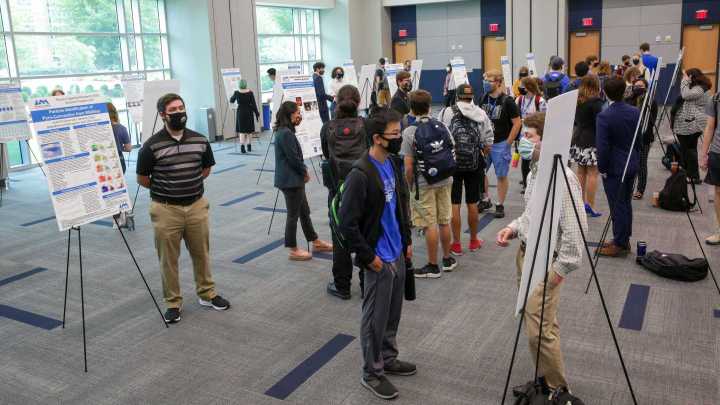 [ad_1]
Seven student research posters were selected for the Dean's Best Awards during the Academic Summer Community (SCS) End-of-Program Poster Session on September 15 in the Student Services building of the 'University of Alabama at Huntsville (UAH), part of the University of Alabama system.
The quality and depth of research this year is phenomenal, says Dave Cook, director of undergraduate research.
The work of the students is impressive, and we are extremely grateful for the mentorship provided by our faculty and research staff on these projects. Their willingness to work with undergraduates over the summer offers some really exciting possibilities for everyone involved.
Participant posters and video presentations are available through the UAH Salmon Library Research Repository and at UAH undergraduate YouTube channel.
If you did not have a chance to attend the poster session, these online resources are extremely useful, especially if you want to see sample projects and learn how to get involved in undergraduate research as part of the project. of the summer program.
There were 37 undergraduates from SCS who spent the summer working with faculty and research staff on cutting edge projects ranging from astrophysics to history, and everything in between, he says. .
SCS is comprised of the Research or Creative Experience for Undergraduates and the Hons Capstone Research Summer Program. Its purpose is to support research or creative experiences for undergraduates in all fields of study.
The overall vision of the program is to maintain a vibrant culture of research and creative activities for undergraduates at UAH. Participants undertake activities as part of a research project or creative work.
Possible activities include laboratory experiments, musical compositions, field studies, clinical projects, engineering experiments and projects, theoretical work, human behavior studies, writing projects and projects. visual art. The activities are complemented by professional development workshops throughout the summer.
Poster winners
College of Arts, Humanities and Social Sciences
The best of college: Brendan Lang, "The Rhetorical Landscape of Public Memory in Alabama"
Mentor: Dr John Saunders
College of Engineering
The best of college: Sam Blackwell, "Simulation of a Trailing Edge Flap Using a Conforming Mechanism"
Mentor: Dr Konstantino Kanistras
Honorable mention: Savannah Flaherty, "Dielectrophoretic Control of Macroscopic Media for Space Applications"
Mentor: Dr Jason Cassibry
College of Sciences
The best of college: Katelyn Giltner, "Environmental DNA Analysis of a Critically Endangered Cave Fish"
Mentor: Dr Matthew Niemiller
Honorable mention: Michael Yurovchak, "Using a low cost spectrometer to analyze the optical depth of atmospheric aerosols"
Mentor: Dr Udaysankar Nair
Specialized college
The best of college: Daniel Duke, "Brownian dynamics of interacting anisotropic magnetic nanoparticles"
Mentor: Dr Isaac Torres-Diaz
Honorable mention: Province of Justin, "Identification of the particles of the pyro-convection of forest fires"
Mentor: Dr Lawrence Carey
Gallery
---
[ad_2]