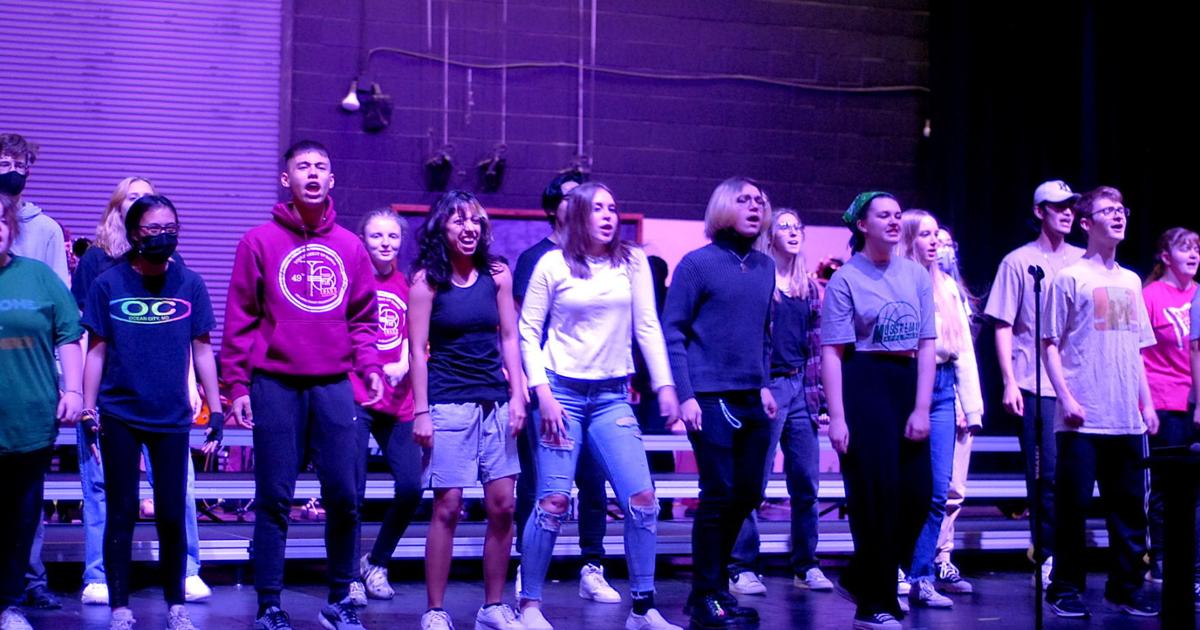 'Truly Unique': Musselman's Choirs and Theater Department Come Together for a Different Approach to Traditional Performances | Journal-news
INWOOD — On Friday, Musselman High School's Show Choir, Kaleidoscope, Women's Choir, Chamber Choir and Theater Department will perform a unique show for the community.
The show takes place in Musselman and begins at 7 p.m., with doors opening at 6 p.m. Tickets are $10.
Jamison Reynolds, deputy director of Kaleidoscope, said that while the show choir is in its 40th year of existence, given the choir's competitive circuit, the group is only in its second year.
"Years before, we were doing state festivals, local festivals, and not necessarily some of the more competitive competitions," he said. "We just came back from a competition in Ohio. The way this competition works is you play and then the top five go through to the finals and are evaluated. For the second year in a row, we reached the final. We are really excited and happy for the kids for this.
He added that there are many aspects of the show Kaleidoscope will perform on Friday that make it unique. He explained that the show is story-based, rather than a themed show like most choir shows.
He also noted that this year, there are two students who choreographed the whole show, rather than bringing in someone. These two students are seniors Michelle Alarcon and Katie Davis.
"It's really unique," Reynolds said. "We are blessed because there is no drop in quality or talent. They put this thing together. It's cool to see them grow. »
Davis added, "We had the opportunity to do this choreography for the show in June. It's something I've always wanted to get involved in. I am a dancer and I love to dance. Being able to do this was a great opportunity for me. A few years ago, we had a bad reputation, so everyone was like, "Oh, that's the show choir. We haven't had the chance, because of COVID, to really flourish. Friday would be a good opportunity for the artistic program as a whole to be able to demonstrate what it is capable of. »
Alarcon agreed and said it was great to express his creativity.
"It was really cool to be able to express my creativity, to see it in a group and to watch it on stage with everyone," said Alarcon. "I think it's such a great thing to watch if you're trying to branch out into different hobbies. If you're not very into the arts or have a slight interest in the arts, come see some what it is.
According to James Miller, director of Kaleidoscope and Musselman's choral department, this is the first full season of competition for the show choir.
"It's really exciting to see us get back to where we were two years ago," Miller said.
He added that the show came together and turned into something wonderful.
"It's to show talent, and often we compete far," Miller said. "Not everyone can drive that far to see us, so it's really great to have something they can all see live. It'll be great to see all the kids working. It'll also be great to see the theater to work, because I heard it was hysterical.
He noted that the theater department has qualified for the state theater festival and will also compete with their show, also presented on Friday.
Mikayla Gilmer is the director of Musselman's theater department and Abigail Lieb is the costume director. This will be one of Gilmer and Lieb's first events held together at Musselman.
"It's huge for us. We have the opportunity to work with our children and the community for the first time," Lieb said.
The two said Friday was a big deal for the arts in Musselman.
"Friday is huge for the arts, especially the performing arts in Musselman," Gilmer said. "I don't think anything has been done, any performance like this of its kind, where it's choir and theater combined. It's going to be big for the community. They always supported us with everything. We are happy to do so.
Sydney Floyd, a sophomore at Musselman, is the president of the drama club, and she's also in Kaleidoscope. She agreed that Friday is a great day for the arts in Musselman.
"It's such a fun experience. I've done theater before, but this is my first theatrical competition show," Floyd said. "This show is a comedy. There are three high schools, and each high school has this clique of students. They all have their own teacher and they all participate in a festival of plays – exactly what we do with our show. We have a narrator and three judges, and throughout the show, the judges comment on all the scenes that all the people perform.
Floyd expressed his excitement about being part of the two shows on Friday. After the Kaleidoscope workout on Tuesday, she laughed as she said her hair was wet with sweat from their workout.
"I'm pretty sure I work harder, if not as hard, as a football player. Until now, this room has been pretty useless, but we can show people that a stage matters as much as a football field, a basketball court, a soccer field," Floyd said. "The arts are often looked down on, because they say, 'Oh, you're weird theater kids,' or 'Oh, you just sing.' I just want people to enjoy something fun, funny, real and awesome.
Miller added that all are welcome at Friday's show.
"You don't need to have a child or a parent in it. Anyone who wants to come has to attend," he said.