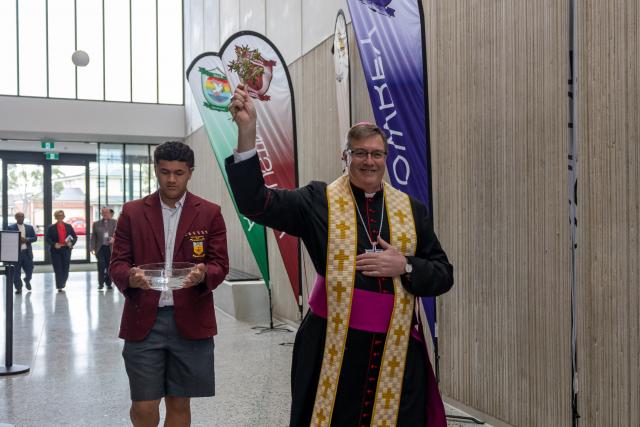 The new performing arts center is blessed
St Peter's College welcomed a number of special guests for the official opening of its new performing arts center at its Clyde North campus on Thursday 27 October.
Principal of the college Chris Black was joined by MP for Cranbourne Pauline Richards, Catholic Bishop of the Diocese of Sale, the Reverend Greg Bennet and Maria Kirkwood, Director of Catholic Education and Chief Executive of the Diocese of Sale, to bless the building .
The $15 million "GEODE CENTER" is a state-of-the-art, 450-seat performing arts center designed not only for academic performing arts learning, assemblies and conferences, but also for the local community at large. wide.
Funding came from the Catholic Development Fund (CDF) through a $9.5 million loan, the college contributed $1.5 million in cash reserves and the Government of Victoria contributed $4 million in financial support through the Catholic Capital (Victoria) Limited Program.
Ms Kirkwood said the joyful sounds of students singing praises on stage underlined the school community's enthusiasm and pride in presenting this wonderful contemporary learning space.
"I am sure that in the months and years to come, this center will be a place of lively and dynamic learning activities, involving many people sharing ideas and growing together," said Ms. Kirkwood.
"This blessing ceremony provides an opportunity for all of us to come together to thank and recognize the contributions of so many to creating a center of teaching excellence where young people can thrive."
Mr Black explained the origins of the building's name, telling the audience it was inspired by the school's namesake.
"A geode is a spherical rock structure that has a durable outer wall with inner layers revealing the beauty of a cavernous core," he said.
"In our context, the rock is synonymous with our patron Saint Peter with all the beauty of the central space that will only be realized in the performances that will be presented in this space."
The Performing Arts Center took 12 years to build.
The current center and accompanying facilities took three years to design and two and a half years to build, encompassing state-of-the-art sound and lighting.
The backstage and biobox facilities will provide exceptional technical excellence to support productions and events.
Mr. Black said that around the theater on the ground floor and upstairs are a suite of classroom spaces, changing rooms, rehearsal spaces and green rooms, and that he it is a center both campuses can be proud of.
"The stage itself is a wonderful expanse to showcase the talents of our students," Mr. Black said.
"My special thanks go to Mr. Phillip Mustey, Sales Manager and Mr. Adam Bonnici, our maintenance agent."
The 'GEODE CENTRE' was designed and built with consideration not only of the performing arts learning needs of St Peter's College, but also the needs of the local community.
The facility is available to hire, bringing much-needed meeting/performance space to the communities of Clyde North, Cranbourne and surrounding suburbs. For inquiries please contact the college at [email protected]