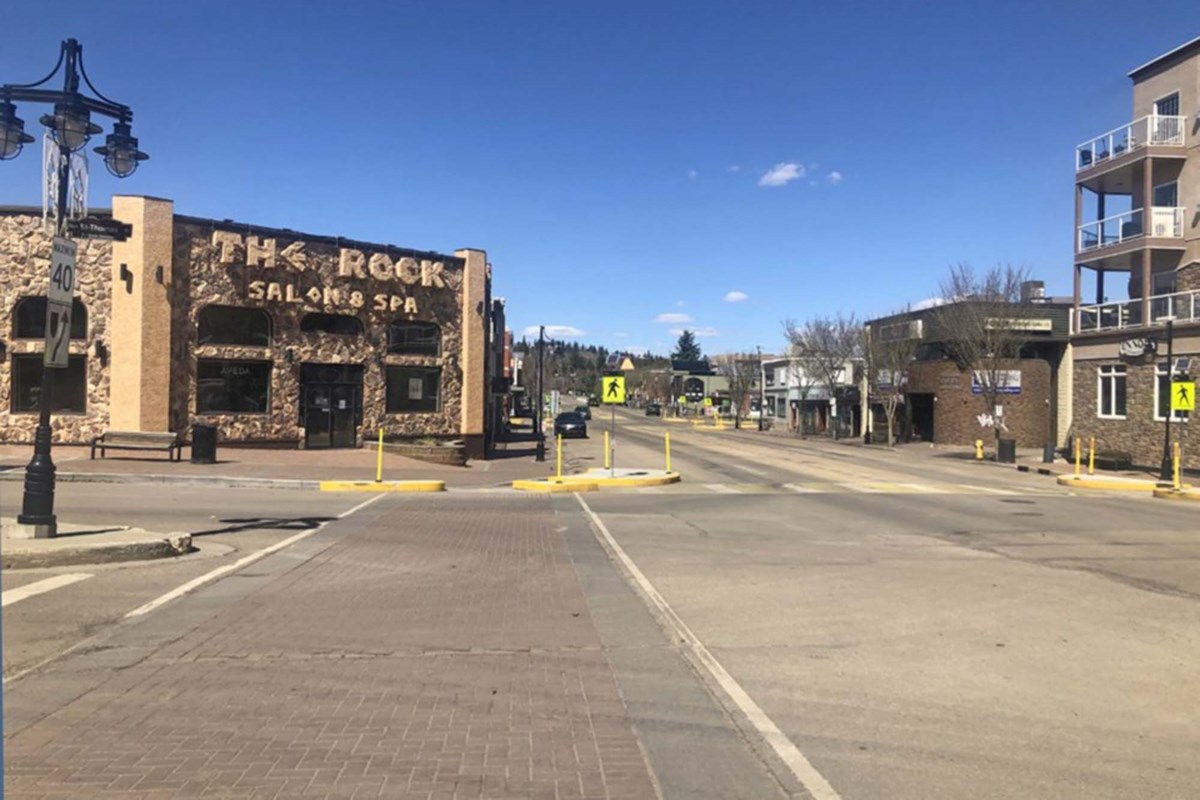 'Strike when the iron is hot': Council revisits town center redevelopment plan
The city's director of planning and development said the plan remains timely, but noted that some changes could eliminate overly specific policies that could hinder redevelopment.
Council members revisited a 12-year-old planning document and offered new ideas for bringing downtown St. Albert to life at a committee meeting on April 6.
The administration led a brainstorming session to increase pedestrian traffic in the downtown area and presented the background for the city's Downtown Redevelopment Plan (DARP). Adopted in 2010, St. Albert's DARP replaced an earlier redevelopment planning document from 1990.
Adryan Slaght, director of city planning and development, outlined the goals of the 2010 plan, including increasing the opportunity for downtown living, creating a central gathering place, establishing an architectural theme and promoting a mix of businesses.
As for how the plan will continue to be implemented in the future, the City funded a $165,000 DARP project prioritization review as part of the 2022 budget.
Depending on the budget, this project will assess all recommended capital projects within the DARP – such as transmission network service or capacity projects – and prioritize them to achieve the greatest benefits at the lowest cost.
Long-term projects are still not funded
However, some key DARP projects remain unfunded, including the development of the Millennium Park site and pavilion, as well as the improvement of downtown streets and the development of a new Civic Square.
After hearing advisers' comments, Slaght said that in the case of Millenium Park – currently valued at $12 million – the project's current lack of funding could be beneficial, as it provides a "reflection opportunity".
Com. Mike Killick said he supported the park idea, but noted that the conceptual design seemed inadequate for the city's expected growth.
"As we go to 100,000…it just seems small to me," Killick said.
Slaght said the design was chosen in part because of the sensitivity of the surrounding mature trees that act as a levee to hold back spring runoff.
Kristina Peter, director of the planning division, added that the City is also aware of the project's budget and that the land is expensive to build.
She noted that a park "can also evolve over time" and pointed out that park designs are still in the design stage and may change in the future.
Does DARP need to be redone?
Mayor Cathy Heron asked Slaght if the DARP was still valid after 12 years.
"If we were to launch a brand new DARP today, do you think it would look like what we have?" asked Heron.
Slaght said he thinks it would be similar, noting that the document contains strong policies, although some regulations are too specific and could be too restrictive, deterring would-be redevelopers. The city is discussing ways to make downtown more competitive from a redevelopment perspective, Slaght said, which involves simplifying some regulations, such as height regulations on a parcel-specific basis.
"You'll likely see recommended amendments or modifications to the DARP," Slaght said, noting that those suggested changes could come before the council in the form of broader land use amendments that the administration is currently working on.
The review of the land use by-law is expected to be presented to council at the end of 2022.
Council members also discussed potential new concepts to continue moving forward with their vision for a vital downtown.
Heron said a potential strategy over time could involve the introduction of paid parking, the proceeds of which could be reinvested in the town center with improvements, such as public art.
"I don't think we're there yet, but at some point residents will have to realize that you don't get free parking," Heron said.
Com. Natalie Joly argued that the parking problem is "more of a communication problem".
"The most vibrant downtowns on the planet are those with very limited parking," Joly said, referring to concerns she's heard about a potential affordable housing complex at 22, rue Saint-Thomas, which would result in fewer parking spaces being available.
Com. Sheena Hughes argued that the City should get rid of minimum building heights to promote redevelopment.
"I think it's actually a quick and easy thing to do," Hughes said, adding that maximum height restrictions would continue.
Killick said the City needs to find short-term priorities to tackle this year, such as temporary event space.
"I'd like to see something…that's really actionable," Killick said. "All the other things, whether it's affordable housing or Millennium Park, are longer term…if we just focus on the big items, it's going to be another four years before we have a vibrant downtown." . You have to strike when the iron is hot.