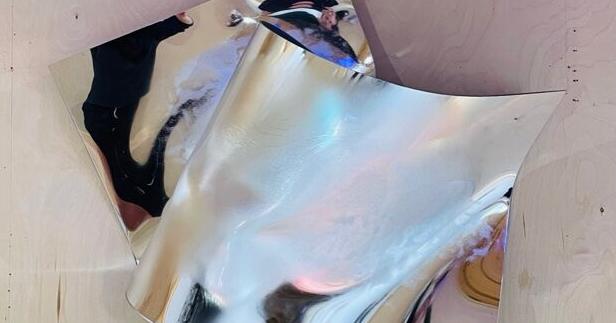 See the dark sculptures of Andrés Bustamante in the mausoleum | Visual art
Elisabeth Kübler-Ross defined the five stages of mourning in her 1969 book On death and death. These are denial, anger, bargaining, depression, and acceptance. In his exhibition Mausoleum at Electric Shed, Nashville artist Andrés Bustamante offers alternatives: silence, contemplation, remembrance, community and beauty. The exhibition of sculptures and art installations was inspired by the death of Bustamante's father in 2020, but viewers might also read the exhibit as a response to the deadly pandemic, or even the deadly tornado of 2020 which our town is still recovering.
Mausoleum features Bustamante's abstract acrylic plastic sculptures along with a graveyard-like installation of dirt and rocks in the middle of the shed in the backyard of artist David Onri Anderson's home in South Nashville. Bustamante displays her colorful plastic forms in the form of wall sculptures inside the shed and tombstone-like works balanced on wooden forms scattered in the grass outside. This inventive organization – bringing the exterior to the interior and the interior to the exterior – is emblematic of the artist's tireless reimagining of the possibilities of materials and space.
Just a few years ago, Bustamante was doing street art-inspired spray painted works on stretched panels and canvases. Many of these colorful pieces were quite nice, but not particularly unique or noteworthy. Then in 2019, the artist took a huge leap forward, painting raw, unstretched canvases with black light and fluorescent paints before folding and draping them into abstract shapes and mounting them as wall sculptures. The artists Birth. Death. Renaissance The exhibit at the Rockwall Gallery in Houston Station in July 2019 was a surreal and deeply touching affair. His follow-up exhibition at Open Gallery in November marked the debut of his acrylic sculptures, which read like version 2.0 of the unstretched canvas pieces. After setting up her exhibit in Anderson's hangar last month, Bustamante filled her car with additional sculptures and traveled to Art Miami to show her work at Red Dot Art Fair. We expect young artists to grow and develop, but Bustamante's creative and professional growth has been simply relentless.
The titles of Bustamante's exhibitions – Birth. Death. Renaissance and Mausoleum – might lead viewers to think the artist's work is morbid or overly preoccupied with dark themes. In fact, Bustamante's paintings, sculptures, and installations are best understood as spiritual explorations that reflect the artist's personal interest in an expanded consciousness: the Rockwall show was inspired by an out-of-body experience, and Bustamante is enthusiastic. as to his interest in psychedelic culture and meditation.
Bustamante was born in Colombia and moved to Nashville with her mother when she was 10 years old. His immigrant experiences inspired his conservation project Persona Contemporary, which he organized to benefit the Tennessee Immigrant and Refugee Rights Coalition. He also created art for the headquarters of the organization. But Bustamante's personal work digs deeper, beyond identity themes and militant concerns, to deliver more compelling, idiosyncratic and unique expressions, centered on transcendent themes.
Sculptures in Mausoleum range from rough and even a little banged up ("Vivir.Morir") to perfectly polished and smooth pop-art inspired pieces ("Eres Ser Eterno"). Most of them are acrylic plastic, but a few are aluminum composite. Their shapes vary from geometric and angular to curved, fluid and organic shapes. Bustamante makes these shapes using a blowtorch to heat the plastic to a high temperature before it can be bent and shaped. The process is inaccurate, and looking at these works one can sense the kind of creative conversation the artist and his torch have with these materials before they come to a final shape to cool and harden.
Inside the hangar, a few of the sculptures are balanced on vertical cinder blocks, just as the exterior sculptures are balanced on rough wooden plinths that viewers might think are real tree stumps. It's tempting to envision a natural / artificial conceptualization going on here, but it's more likely that these unusual displays were the result of a spontaneous decision based on materials Bustamante had available or simply found. Reuse and recycling of materials has always been a hallmark of Bustamante's practice, and the unique combinations of materials the artist discovers are part of what sets his work apart from more traditional sculpture.
The tomb-like display in the shed is a mound of black soil covered in gravel. It is decorated with one of Bustamante's flowing shapes – its shiny surface reflects the faces of viewers as they examine it. A candle burns atop the artwork, and visitors to the exhibition opening reception have left commemorative funeral cards and photographs of deceased loved ones scattered across the artwork. Two potted mothers in the corners of the gallery complete the decor of the funeral home. This interactive element gave the reception a ritualistic sensibility, and a respectful and somber tone still permeates the space.