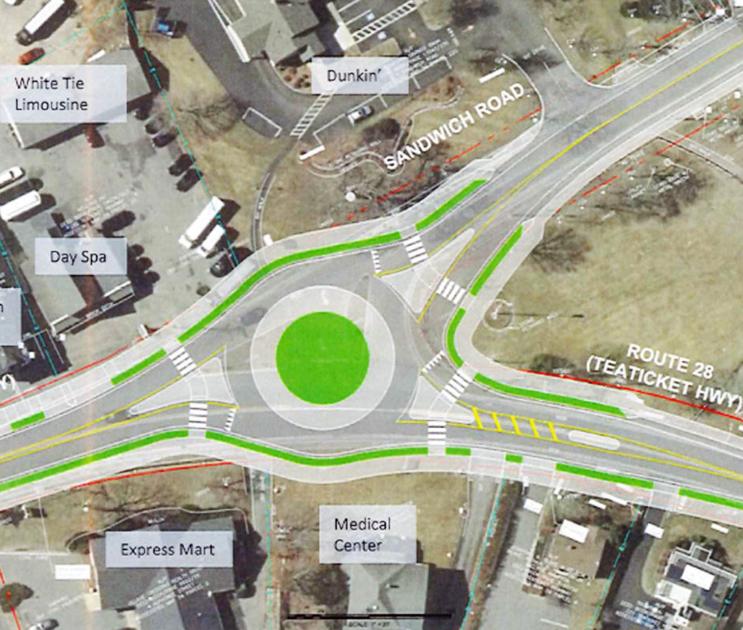 Roundabout Eyed For Teaticket Intersection | Falmouth News
Falmouth is considering reserving the congested Highway 28 trade corridor with roundabouts in its overall plan to improve traffic flow in Falmouth.
A roundabout at the intersection of Sandwich Road and Route 28 would improve safety and traffic flow, John Diaz of GPI / Greenman-Pedersen Inc. told the board at its Monday meeting., July 12. A roundabout has already been proposed at the intersection of Falmouth Heights Road and Highway 28.
GPI / Greenman-Pedersen is working with the city's public works department on the design of intersections and road widening in several areas of the city.
Mr. Diaz and the director of the Falmouth Public Works Department, Peter M. McConarty, provided an update on the project to the board. The proposal includes modifications to three problematic intersections between Falmouth Heights Road and Sandwich Road.
Mr McConarty said the project is still in the conceptual phase and that public input will be sought before final designs are submitted to the state Department of Transportation.
Several ideas are being considered to improve traffic flow at the intersection of Sandwich Road and Highway 28, which is near the Falmouth School administration building. Mr Diaz said one option is to improve sightlines by painting and slightly reconfiguring the turn lanes, but he said a better option is to create a roundabout that would calm traffic and improve traffic. security.
"It might be the best option," he said.
The third area of ​​concern is the intersection of Highway 28 and Dillingham Avenue. Ideas for improving the four-lane intersection include adding dedicated turning lanes, adding a traffic light, and aligning Spring Bars Road and Dillingham Avenue so they are no longer offset by compared to Highway 28, Diaz said.
The final part of the multi-year construction project is to widen Highway 28. Mr. Diaz said the state aims to widen the entire road Cape-wide, and this part is part of that overall plan. The development includes a 10-foot shared-use trail along Highway 28 on the east side and a five-foot sidewalk on the east side, with buffer zones of five feet or more overlapping the road.
Public meetings outlining the plans will take place later this summer, McConarty said. Work would start at the earliest in 2026.