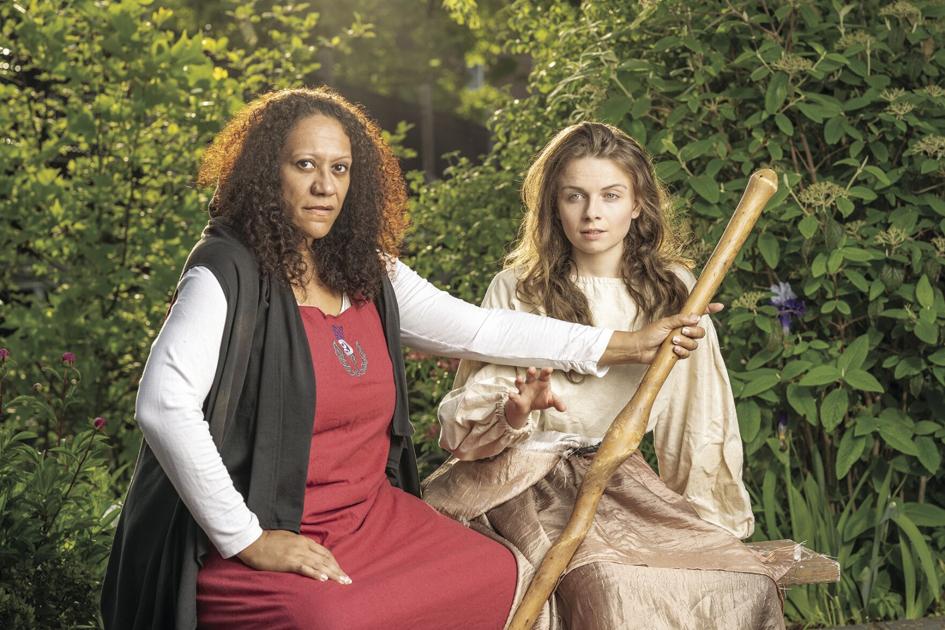 Rhode Island theatergoers have plenty to see this fall | Arts and life
Hopes are high among fans that 2021-22 will be a robust theater season in Rhode Island.
For the past two years, the pandemic has put performance on ice, and even now the threat has not abated. To address this fact, nine arts organizations agreed to COVID protocols, setting a standard that other theaters could follow. It is best to check with individual theaters in advance.
As a rule, theaters move with caution but with optimism. Here's a look at the variety of stories to be told on stages across the state.
The Contemporary Theater Company, 327 Main St., Wakefield, (contemporarytheatercompany.com) is enjoying its Riverfront Performance Patio where a production of "Native Gardens" by Karen Zacarias is running until October 3rd. It's a biting comedy that proves the adage: "Good fences make good neighbors. (For a full story on "native gardens," turn to page C-4.)
Also on the patio will be a production from Oct. 13 to Nov. 15 of "The Tempest" by William Shakespeare. The story begins with a shipwreck that leaves those on board scattered on a desert island. It turns out that the sinking was not an accident and that the island is not completely deserted. But love conquers everything.
Beyond that, "I don't have a lot of information … because we are still finalizing a lot (the coming season) given the degree of uncertainty surrounding COVID," said Maggie Cady, chief executive.
Granite Theater & Renaissance City Theater, Inc., 1 Granite St., Westerly, (granitetheatre.com) is on board for two holiday shows: "The Haunting of Hill House," a spooky tale of people gathered to explore occult forces , with performances on weekends from October 8 to 31; and "A Christmas Carol", weekends between November 26 and December 19.
The board is working on a timeline for 2022, which will include "Almost, Maine" and "The Importance of Being Serious," according to board member Michelle Mania, who said the dates for those were. ci and potentially another production would be announced when details are worked out.
The Providence Performing Arts Center, 220 Weybosset St., Providence, (ppacri.org) begins its Broadway series by launching the nationwide tour of "Pretty Woman" (October 9-16), a musical based on the eponymous film.
The season continues with "Hamilton" (November 30-December 12), a hit when PPAC airs in July 2019. Then audiences have to wait almost spring for "The Prom" (March 8-13), a bubbly musical. on the fading of Broadway stars; the classic "Oklahoma!" (March 22-27); "Ain't Too Proud – The Life and Times of Temptations" (April 12-17); concluding with the Lincoln Center Theater's cover of "My Fair Lady" by Lerner & Loewe (May 11 to 15).
Three other shows include PPAC's Encore series: "Rent – The 25th Anniversary Farewell Tour" (January 14-16); "An officer and a gentleman" (February 18-20); and Blue Man Group (May 20-22).
There are also three Broadway specials, including the acrobatic "Cirque Dreams Holidaze" (December 17-18); "Superstar of Jesus Christ" (January 25 to 30); and finally, "Dear Evan Hansen" (April 5-10), which won six 2017 Tony Awards and a 2018 Grammy.
Trinity Repertory Company, 201 Washington St., Providence, (trinityrep.com) begins its season with its 44th edition of "A Christmas Carol" by Charles Dickens (November 4 – January 2), available in person or streamed online.
Curt Columbus, artistic director, described this season's pieces as "which resonate deeply, have great language and ideas, which show the depth of the human condition, and are all surprising, funny and provocative."
January 2022 opens with Cheryl Strayed's "Tiny Beautiful Things" (January 13-February 13), based on her book about her experiences as a consulting columnist. Next is "Gem of the Ocean" by August Wilson (February 24, March 27); "Sueno" (April 7-May 8), a modern adaptation of the classic "Life Is a Dream", which explores the nature of fate and reality. The season will close with "Fairview" (May 19-June 19), by Jackie Sibblies Drury and the 2019 Pulitzer Prize winner.
The Sandra Feinstein-Gamm Theater, 1245 Jefferson Blvd., Warwick, (gammtheater.org) opens with "A Lie Agreed Upon", the new adaptation by artistic director Tony Estrella of "An Enemy of the People" by Henrik Ibsen . Ibsen wrote his play in 1882, but the conflict between truth and "alternative facts" is still relevant today.
The season continues with "It's a Wonderful Life: A Live Radio Play" (November 26-December 24), about a handful of actors voicing a radio show of Frank Capra's holiday film; "An Octoroon" (January 27-February 20) by Branden Jacobs-Jenkins, whose "Gloria" was a hit with Gamm audiences in 2018; and Martyna Majok's "Ironbound" (March 17-April 10), described as "a dark and heartbreaking portrayal" of survival. The season ends with "A Midsummer Night's Dream" (May 5-29), Shakespeare's comedy about false identities and true love.
Theater lovers can also find incredible talent and new ideas at the Burbage Theater, 59 Blackstone Ave., Pawtucket, (burbagetheatre.org) originally founded by a group of theater graduates from Rhode Island College and now in its 10th Season, and the Wilbury Theater Group, performing at the WaterFire Arts Center, 475 Valley St, Providence, (thewilburygroup.org).
Burbage's 2021-22 schedule includes a digital feature film by "Macbeth," as well as in-person performances of "Everybody" by Brandon Jacobs-Jenkins; "Red Velvet" by Lolita Chakrabarti; "Five Women Wearing the Same Dress" by Alan Ball, creator of the HBO series "Six Feet Under"; "The Squirrels", by Robert Askins; and the drama "Junk" by Ayad Akhtar, which won the Kennedy Prize for Drama.
Wilbury also presented, in conjunction with the arts center, the eclectic FringePVD Festival, which presented more than 300 live and online performances over two weeks in July.
The nine organizations that have signed the COVID protocols are Festival Ballet Providence, Gamm Theater, Island Moving Company, Providence Performing Arts Center, Rhode Island Philharmonic Orchestra & Music School, Trinity Repertory Company, United Theater, Veterans Memorial Auditorium (The VETS) and Wilbury Groupe de theater.
The protocol states: "Effective immediately and until further notice: All clients attending indoor events in person must show proof of complete vaccination against COVID-19 (fully vaccinated is defined as at least 14 days after receiving either a two-dose dose, either a dose of COVID-19 vaccine cleared by the FDA or WHO) or proof of a negative COVID-19 PCR test performed within 72 hours of performing or proof of a negative COVID-19 antigen (rapid test) performed within 6 hours of execution. All clients, regardless of their immunization status, should always wear nose and mouth masks inside the room (unless actively eating or drinking).