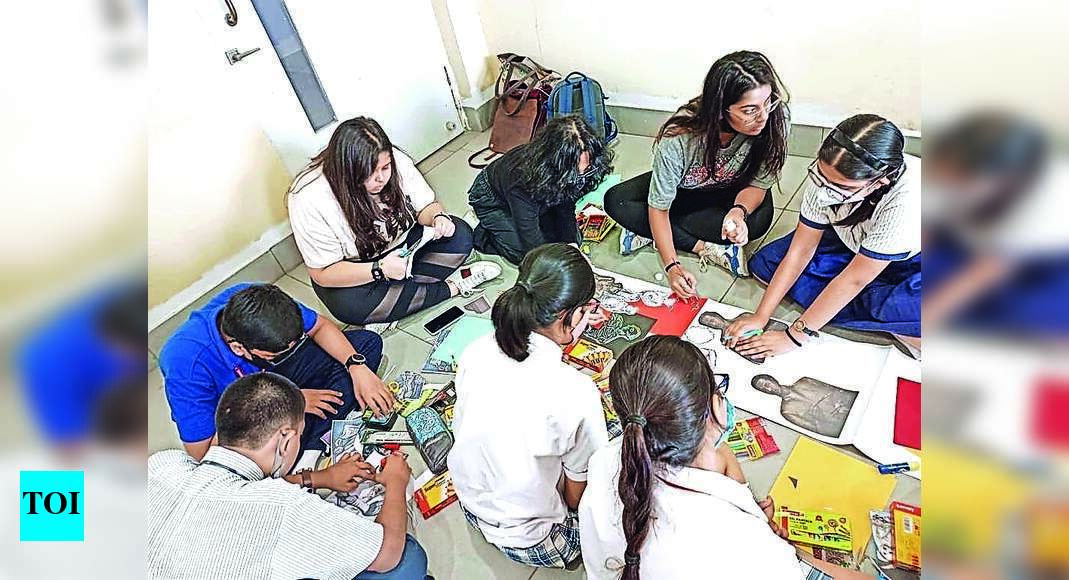 Rendezvous with History through the Visual Arts at the School Exhibition | Kolkata News
Kolkata: An interactive arts education program, the first of its kind, Delhi Art Gallery's 'Art Lab', was launched at the Indus Valley World School on Monday. Students from Akshar School, Birla Secondary School, Mahadevi Birla World Academy, Sushila Birla Girls School, Kolkata International School, South City International School, Sri Sri Academy, BSS School and IVWS took part in a specially organized tour of the exhibition, followed by a creative workshop. The exhibit will remain at the school for two weeks and will create an immersive learning space where students will learn about history through art. After the summer break, the Art Lab will visit Modern High School For Girls and other schools over the following months.
The artworks are organized around the idea of ​​'Itihasa-Purana' showcasing Bengali art from the mid-19th century. They reflect key historical moments like the First War of Independence, the Swadeshi Movement, and the Partition of India, among others. The Art Lab provides access to an under-explored aspect of our cultural heritage – the diverse heritage of Bengal's visual
arts
– by bringing it into classrooms.
Students will be able to see the paintings and prints that have shaped the course of modern Indian art. The
exhibition features
two very different styles of political cartoons by Gaganendranath Tagore and Chittaprosad, expressing protest against disastrous government policies, works by Prokash Karmakar and Rabin Mondal responding to political violence through personal metaphors and painting by Abanindranath Bharat Mata's Tagore which merges different Southeast -Asian traditions to invent a new nationalist symbol.
"The initiative offers students a rare opportunity to experience history through the
visual arts
instead of reading it in textbooks. A range of activities – from collecting archival resources to writing new captions for artworks to discussions – will encourage learners to ask themselves how events are told in the story, to explore questions of identity and articulate their understandings through creative projects," said Sumona Chakravarty, Partner. Vice President, Museums.