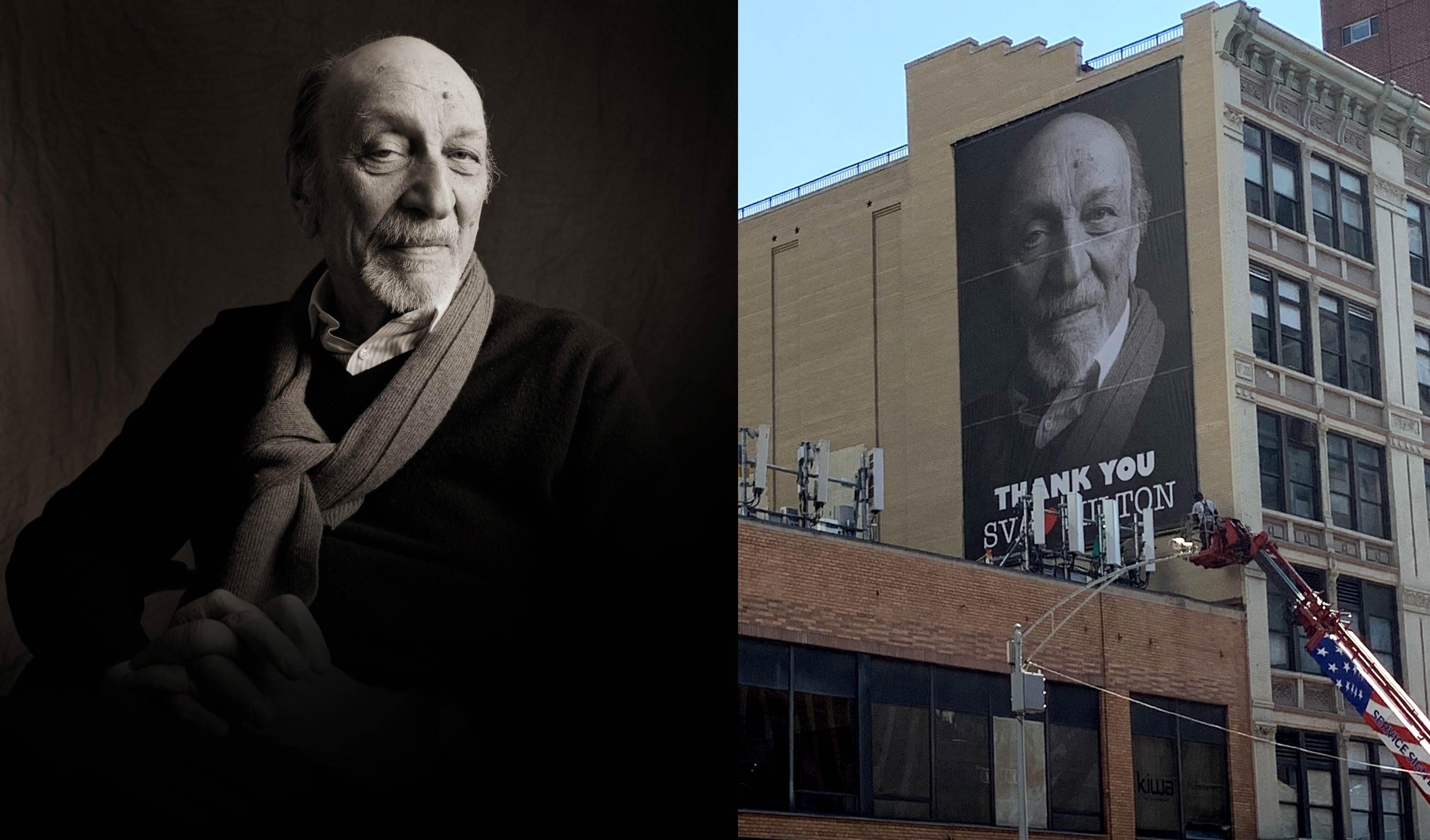 Photographer Michael Somoroff on the photo shoot behind the banner of the new SVA building
[ad_1]
Milton glaser may have passed, but his legacy and influence at the School of Visual Arts is eternal. The legendary graphic designer behind the "I ♥ New York" logo, longtime SVA faculty member and acting chair of the SVA board of directors, passed away last year, June 26, 2020 , on the occasion of his 91st birthday. Glaser's daring and eclectic design work and graceful humanism helped shape American design during his prolific 65-year career, but they also had a profound effect on college ethics.
The College has gathered many honors and recognitions to pay tribute to him this academic year. One of them is the recently published Glaser Gazette newsletter, celebrating his many accomplishments. Another is a striking banner with his portrait that is mounted on the upper exterior wall of the main SVA building at 209 East 23rd Street, which reads, "Thank you. SVA ♥ Milton Glaser ", a tribute to the indelible mark he left on the school.
The photo of Glaser on the banner was taken by Michel somoroff, concept artist, director, photographer and friend. Somoroff knew Glaser from an early age through his father Ben somoroff, a famous still life photographer whose works have been exhibited at the modern Art Museum and who has worked with Glaser throughout the years during the Men Mag the era of New York City in the 1960s and 1970s. Somoroff became his father's assistant, then his studio manager and worked with the many artists who frequented the studio, such as Glaser.
In 2016, Somoroff showed a photographic project on his artistic heroes and "certainly, [Glaser] was one of them, "he said in a recent interview with SVA. Glaser gave him his departure for New York magazine and to pay his own tribute, Somoroff asked him if he could paint his portrait. Glaser agreed and these warm, striking and curious portraits quickly became defining photos, some of them used in praise, celebration and obituary for the late artist.
Somoroff said he and Glaser remembered this Men Mag period during the photoshoot, with the designer noting how special it was. "It was definitely a moment," Somoroff recalled of Glaser's loving and homely memory of that time. "At that time, there was an explosion of creativity," he added. "There was a lot of cross-germination of ideas, technology and craftsmanship and… all this spectacular work that was done in the 60s and early 70s was largely the result, as has said Milton, for a "moment."
"Working with Milton has always been smart. There was always a strong concept that we managed, "recalls Somoroff. "Most importantly, there was a deep respect on Milton's part for the talent he had chosen to collaborate with, and you felt that… the pressure to be deeply appreciated."
Below, Somoroff shares how Glaser's photography was born, the photoshoot itself, and other memories of his time working with and around his artistic hero in his father's famous design studio.
[ad_2]