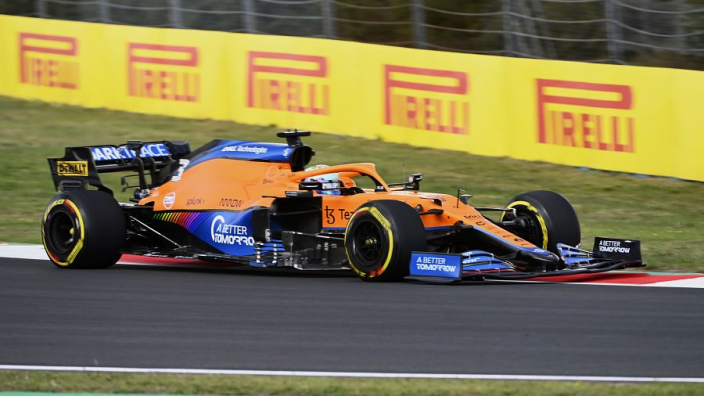 McLaren claims "unfinished business" with MCL35M
McLaren technical director James Key believes the team has "unfinished business" with its 2021 challenger due to the pressures of developing a car for this year's new regulations.
F1 has undergone a radical overhaul of its regulations with cars expected to look very different, as aerodynamic components are largely lost from the topside of the vehicle to reduce rowdy air for following drivers.
With such an overhaul looming, teams were forced to make development trade-offs last year between their competitive opponents and the new breed entering the sport this term.
McLaren was able to add innovation to its 2021 design despite a major postponement from 2020 and asked during an end-of-season press briefing how valuable lessons from last year could be, Key replied: "There was definitely some knowledge you can pick up that is still valid for this year.
"But those things are often the function of the tyres, the function of many other features that need to be tuned. But some mechanical solutions, like ride height for example, that's certainly valid for both seasons.
"I think with the concepts we introduced we were slightly better in certain conditions on the track. [than in 2020] therefore shake up some of those sensitivities. Some of them were related to some of the concept work that we did.
"Obviously we were mechanically homologated a lot of it so there was only so far you could take some, but we got better. Our wind sensitivity was better and that was part of what we knew we had to improve in 2020.
"I think some of what we did definitely came to fruition. Obviously it was a bit of a weird year as the car froze mechanically from the stage-by-stage race. [in 2020].
"So we brought in some new stuff that was intended for early '21, things like the nose cone for example, the front suspension last year as well as on the 2020 car and those new concepts worked."
Explaining why McLaren could not optimize the developments made for the MCL35M, Key added: "I guess probably to get the most out of it we could have finished a year with a '22 car based on the same regulations. .
"We could have continued to evolve the car around those ideas, those concepts and made the next logical steps.
"There is certainly unfinished business with the [2021] car in this regard. We didn't cover everything we would have liked, but that was unavoidable given the importance of '22's development.
"I think overall we managed to make things work. There's nothing we wouldn't have done differently, that's for sure, but we could have gone further had we had the opportunity.