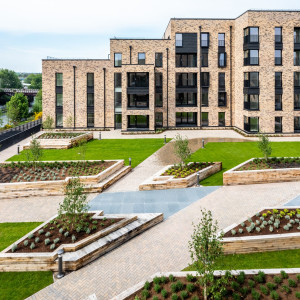 Link's Riverside Dalmarnock development wins fourth prize
Link Group and Hypostyle Architects celebrate a Scottish Design Awards win for their Glasgow development, Riverside Dalmarnock.
The development won the Architecture: Regeneration award at last Wednesday's ceremony.
Link Group Chief Commercial Officer and C~urb Managing Director, Colin Culross, said: "We are absolutely delighted to win another award for this outstanding development. Our Hypostyle Architects have clearly demonstrated their creative flair and dedication to delivering the very best in architecture, construction and place-making.
"This is the fourth win out of the four awards we have been in the running for, and it's fantastic that the project has been recognized in this way. Delivering these high quality homes has been a team effort from day one.
"I would like to thank the other members of the Riverside Dalmarnock design team, Armor Construction Consultants, G3 Consulting Engineers, Carbon Futures Energy & Sustainability Consultants and Hulley and Kirkwood M&E Engineers, as well as contractors McTaggart Construction."
He added: "Everyone's contributions and the collaborative approach has helped to provide such a great example of regeneration in Glasgow's East End.
"I would also like to acknowledge the support and funding from the Neighborhood Regeneration Services of Glasgow City Council and the Scottish Government, without which the project would not have been possible."
;
Riverside Dalmarnock also won both Affordable Housing Development of the Year and Housing Regeneration Project of the Year at last month's Scottish Home Awards, as well as Large Development of the Year at the May's Homes for Scotland award.
Director of Hypostyle Architects, Gerry Henaughen, added: "Riverside Dalmarnock has been in the works for over eight years and these awards recognize the effort, conceptual ideas, intricate design and planning of the architects, team of design, the client (Link Group) and the partner contractor (McTaggart Construction).
"This design transformed an unattractive and polluted industrial site into a sustainable community of high quality homes. The development embraces the Scottish Government's Placemaking Program and creates a sustainable community with excellent green credentials and energy performance well beyond current guidelines.
"It also delivers a design that exceeds the design quality targets of Glasgow City Council's Planning Department.
"Most importantly, it provides comfortable, energy-efficient, high-quality homes in a beautiful place where people are happy to live, work and play."
Located next to Glasgow's Commonwealth Games Village, Riverside Dalmarnock is home to 562 social and mid-rent properties, as well as affordable housing through the Scottish Government's Participation Scheme, run by Link's latest partner company, C~urb.
Films can be viewed on YouTube.