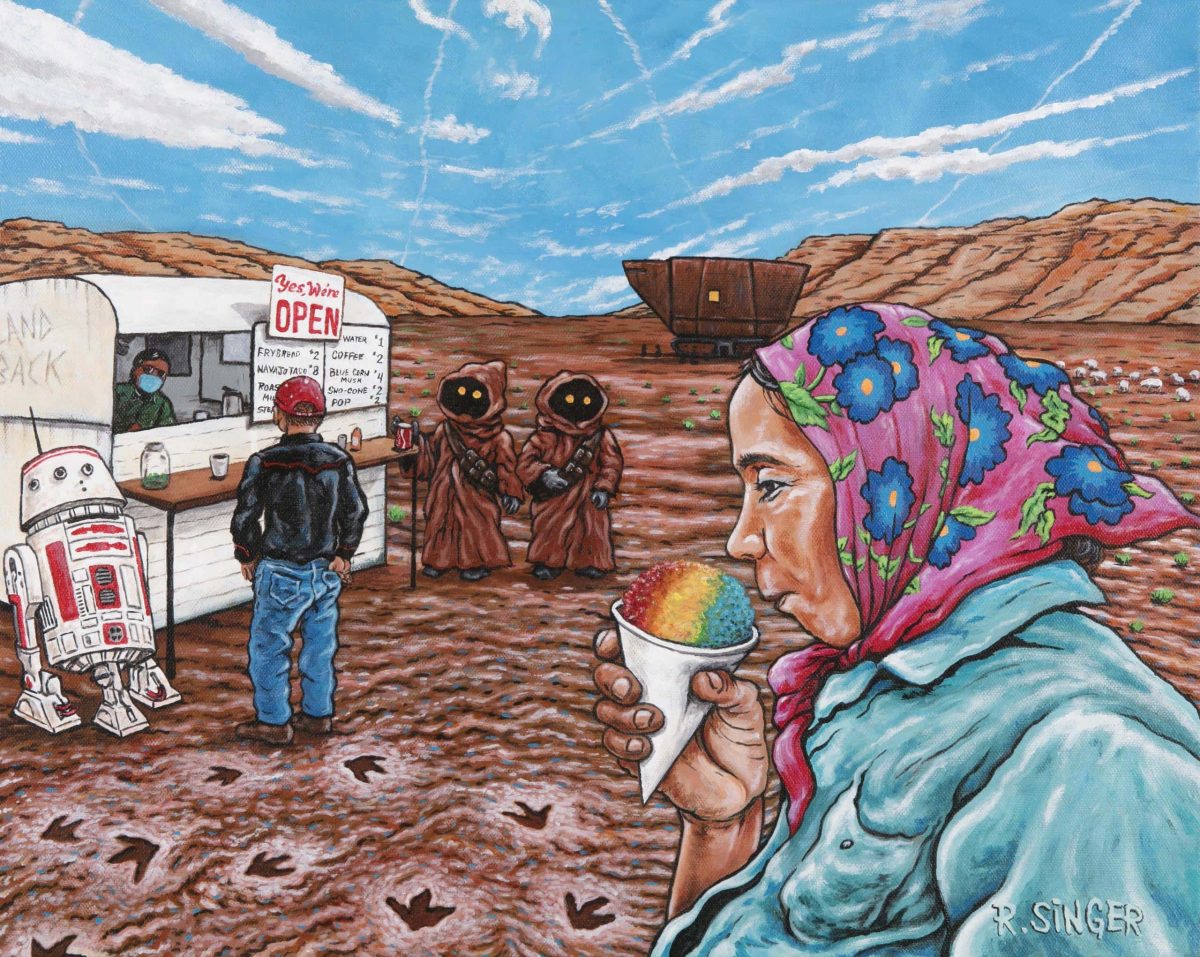 Fronteras del Futuro – The paper.
What is the future of art? It's a big question. But the National Hispanic Cultural Center is making an educated guess with its current exhibit. Fronteras del Futuro: Art in New Mexico and Beyond. The exhibit itself was mounted in March this year at the OCNC Museum of Visual Art and will remain in place until March next year. On Saturday, October 15 from 1 p.m. to 3 p.m., the Cultural Center is organizing a special catalog launch party for the exhibition. The party offers museum visitors the opportunity to mingle with many of the artists featured in the exhibit, view the works, and have your catalog signed while enjoying the museum and some light refreshments.
The OCNC Visual Art Museum is not a gallery and does not sell its works. So it's the best way to bring home a recording of this groundbreaking exhibition. Fronteras del Futuro highlights works of art that "explore the intersections of art, science, technologies (both ancient and modern), cosmic reflections, future-looking visions and more". Local, national and international artists, including Angel Cabreras, Cynthia Cook, Enrique Chagoya, Ryan Singer, Santiago Pérez, Tigre Mashaal-Lively and Tony Ortega, are among those invited to adorn the walls and display the pillars of the museum.
Local Navajo legend Ryan Singer's contribution, a 2021 painting titled "Rainbow Flavor," pretty much encapsulates the collection's collision between Desert Southwest and speculative futurism. In the foreground of the vibrant image, an Aboriginal grandmother digs into a rainbow-colored snow cone. In the background, a duo of Jawas from star wars waiting patiently in line at a snack stand, their giant Sandcrawler parked in the dusty distance. Singer's work has long combined both a nostalgic look at his childhood in the Navajo Nation and his love for George Lucas' space saga. His pop/Dine mash-ups always seem seamless thanks to the visual similarity between northwest New Mexico and Lucas' imaginary planet Tatooine, not to mention the disarmingly flippant way Singer makes his disparate elements interact.
Another sneaky addition worthy of a double take is Patrick McGrath Muñiz's piece "Divinus Informer". At first glance, its golden triptych looks like a traditional New Mexico altarpiece, the Angel Gabriel in the center, horn at the ready, flanked by the usual saints and mystics. But closer inspection shows that the characters are a bit out of time. On the left panel, Moses (or is it Charlton Heston?) carries the Ten Commandments and a rifle. On the right panel, a modern-day prophet in a suit points to an iPad.
The 31 artists featured in the exhibition are doing what scientists, engineers and technicians have always done: using their history, knowledge and experience to imagine what our future might look like. Admittedly, few of the futuristic flights of fancy exhibited at Fronteras del Futuro are likely to happen. But watching Tony Ortega's dynamic "Super Hombre," a swarthy-skinned Mexican Superman with a manly mustache, is more than enough to make us rethink and recontextualize Jerry Siegel and Joe Shuster's 1938 origin story. an "alien" superhero landing in America. And it's this shift in perspective that allows all of us, even those who aren't artists or scientists, to think about a different (hopefully better) world.
If you want to get your hands on a catalog of Fronteras del Futuro: Art in New Mexico and Beyond, pass by the NHCC Museum of Visual Arts between 1 and 3 p.m. on October 15. The museum is located near the south end of the NHCC campus at 1701 Fourth St. SW. Parking is available at the north end of campus near Avenida Cesar Chavez and Fourth Street. Admission to the event is free and catalogs are $15. To guarantee admission, please register in advance at my.nmculture.org/13764.