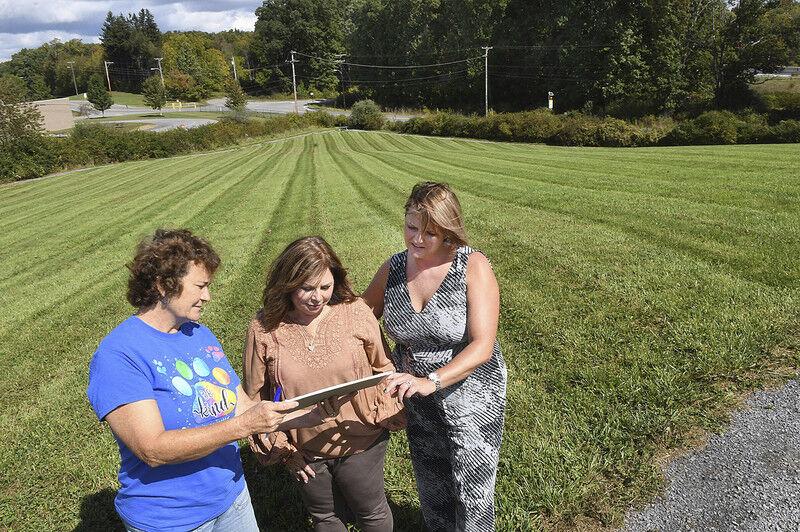 For the love of animals | State and region
Delaney Wykle's hometown legacy is one of compassion for those who need it most.
Thanks to a substantial donation from Todd and Rachel Cornett, the Humane Society of Raleigh County has announced that the Delaney Wykle Animal Wellness Center will be built on Gray Flats Road next spring.
Delaney, 22, died in a helicopter crash in the Bahamas on July 4, 2019, while traveling with her childhood friend, Kameron Cline, also from Beckley.
Cline's father, local entrepreneur and philanthropist Chris Cline, and Wyoming County pilot David Jude died with her on the flight on Cline's private plane, along with Brittney Layne Searson, 21, of Florida, Jillian Nicole Clark, 22, from Louisiana, and pilot Geoffrey Lee Painter, 52, from Great Britain.
Since Delaney's death, a number of people have reported that the young woman has brightened their lives with her kindness and sense of adventure. An anonymous donor established scholarships in her name at the University of West Virginia, where she graduated in 2019.
The veterinary center will honor animal lover Delaney by providing veterinary care for animals in shelters, including spaying and neutering services. Ultimately, said Deb Berry, secretary of the Humane Society of Raleigh County (HSRC), the shelter will also provide sterilization and sterilization services for pets.
"We've been talking about putting a vet clinic there for a number of years," Berry reported. "We actually had a concept plan drawn up by Dan Snead, an architect, several years ago."
Funding was not available for the vet center, however, Snead's sketches were put aside – but not forgotten.
"Rachel Cornett contacted me (in March) and wanted to make a large donation to do something in memory of Delaney," Berry said.
"After talking about it, she felt the clinic would be perfect because Delaney was a medical person," Berry said.
Delaney had passed his board exams a few days before his death.
Delaney's relationship with the local animal shelter began when she was a child.
When Delaney and her sister, Makayla, were younger, their parents – Beckley's Paul and Paula Wykle – wanted to teach them about the importance of giving, said Paula Wykle.
"Their father and I have always encouraged our daughters to be philanthropists," she explained. "So when they started getting bigger sums of money for birthdays and Christmas, their father told them one Christmas that they had to find a place where they would be willing to give a percentage of their money or, at the less, to go buy something and donate. "
The Wykle sisters could choose any local charity. Independently of each other, Delaney and Makayla, who is now an occupational therapist who works with children, decided to support the Humane Society of Raleigh County.
"It was immediate," Wykle recalls. "Delaney knew which organization she wanted to help.
"Delaney was going to buy bags of dog food, or toys, or whatever was needed or needed, and she would drop them off there.
"It was her way of doing several things: showing that she had a project she cared about deeply and also teaching her that giving to others is just as important as receiving."
Wykle believes her daughter's desire to support helpless animals came from the same part of her heart that would influence her, as a young woman, to choose nursing as a career.
"She was caring and caring," Wykle said. "She loved helping others, whether they were pets or people."
When Delaney was in eighth grade at Park Middle School, she met another animal lover: Tristan Cornett, son of Rachel and Todd Cornett.
Rachel Cornett said she and her husband met the Wykle family when Tristan and Delaney started dating as a middle school student. The two young people seemed to bond immediately. Throughout high school, they would be "intermittently, but mostly energized," Cornett explained.
"Our family 'grew up' with Delaney going on vacation and me picking her up from school," said Cornett. "Delaney was a huge, huge part of our family.
"It was like we already had another child. Paula had a son and I had a daughter."
Delaney and Tristan shared a love of animals that continued when they both attended WVU.
"They always brought extra food and things like that to the Humane Society, and Tristan volunteered at the Morgantown veterinary clinic during his senior year," said Cornett.
"They were just animal lovers."
By the time they both graduated from WVU in 2019 – Delaney with her nursing degree and Tristan with a biology degree – the two were making adult plans for their shared future.
They were the "parents" of a golden doodle and a silver labrador – Maya and Kip.
The couple had just moved into an older home owned by the Cornett family in Flat Top Lake. The two planned to live a year near water before moving to another state.
The lives of the Wykle and Cornett families changed forever when Delaney passed away on what had been planned as a short trip with her lifelong friend, Kameron Cline, to the Cline family's private island. She had planned to return home to build a life with Tristan, work at Raleigh General Hospital and be a bridesmaid at her sister Makayla's upcoming wedding.
The fatal accident received international media coverage, but there were less publicized details that showed Delaney cared about others: she had spent her last evening treating Kameron and Kameron's sisterhood, who had fallen ill. unexpectedly on the Isle of Cline; Delaney had swapped places with a medical worker who was supposed to take the flight, so the worker could wipe the vomit off his shirt.
And Delaney, the animal lover, had a dog near her during the tragic flight. A witness said Cline had boarded with a puppy.
•••
For Cornett, the vet center is a way to honor Delaney by giving in a way that would make sense to her.
"My husband and I, as well as our son, wanted to do something sustainable," she explained. "What else can you do with grief?"
"If you don't turn it into something positive, you bury yourself in it.
"Even now, I might just cry thinking about her. But as painful as it may be, I know she would be happy if we did that."
For Wykle, who along with her husband, Paul, had established the Delaney Wykle Memorial Scholarship Fund for nursing students through the Beckley Area Foundation (BAF), the veterinary center project is exciting but "bittersweet." .
"The Cornets have been so generous in coming up with the idea of ​​wanting to recognize Delaney's love for animals," Wykle said. "It was not difficult to get on board, as she loved animals, and if there was one that was in urgent need of help or assistance, she felt the need to help them.
"She would have loved there to be a place that could take care of the animals.
"Everything about the Humane Society, she was 'all' for, and so were the Cornetts."
Delaney's desire to help animals will continue for generations as the veterinary center provides acute medical care and sterilization services to dogs and cats in need.
"We hope the community will join us and the Cornets in establishing this wellness center, to care for the pets," said Wykle.
She pointed out that the vet center was to be built across from the Paul Cline Memorial Youth sports complex, which the Cline family donated to Beckley.
Berry said a number of people have already started sending donations to build the 3,000-square-foot free-standing veterinary center. So far, HSRC has raised over $ 200,000 for construction.
"At least half of our money comes from individuals," Berry explained. "I hope we can get a lot more people involved."
Berry joins the Cornett and Wykle families in asking local businesses to support the new veterinary center. The center will hire a vet and benefit the CRSS by saving thousands of dollars each year on vet bills.
The sketch by architect J. Dan Snead and Associates shows a one-story building with a surgical center, x-ray and recovery room, waiting and reception area, cat room, kennel K-9 and a dog walking area and laundry room and seclusion rooms.
The grand opening is expected to begin in March or April 2022, Berry said.
"We're really excited about this," Berry said. "We have high hopes."
Wykle and Cornett brainstorm fundraising ideas with CRSS staff. One idea is to place commemorative bricks at the wellness center with the names of pets that have crossed the Rainbow Bridge.
HSRC is a 501 (c) (3) organization.
Berry added that all donations are tax deductible "to the fullest extent of the law."
Donations can be made by writing "Delaney Wykle Animal Wellness Center" on the check memo line and can be mailed or brought to 325 Gray Flats Road, Beckley, WV 25801.