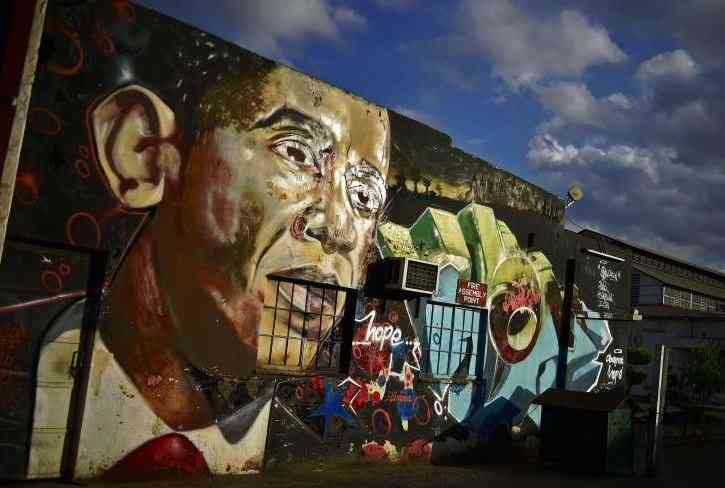 Disappeared state as Kenyan artists struggle
In 2018, I came across a Twitter post from musician Eric Wainaina. The 20-second clip featured him with cast and producers of the children's play Tales of Tinga Tingastanding on a street off Broadway in New York's theater district.
Wainaina said, "Our musical is airing in New York. Mark Kenya, what did you do today? » To which the crowd responds with « Nothing! resounding.
As humorous as the video was, its message was powerful. The Kenyan export promotion and branding agency and the government ignore creatives who put Kenya and add value to the Kenyan brand. When they are not ignored, they are exploited.
Veteran art journalist Margaretta wa Gacheru wrote in her book Creation of Contemporary African Art: Art Networks in Kenya's Urban Areas, that she "stayed away from the visual arts for several years because the contemporary visual arts scene had become too political for my taste. I felt like local artists were being used as "stepping stones" for other people's advancement in the world of international donors, so I stopped covering art shows. »
The fact that most artists rely solely on foreign income and donor funding to facilitate workspaces and exhibitions should be a source of national embarrassment. Most art centers in Nairobi are still dependent on donor funding which, in the case of Kuona Trust (revived as Kuona Artists Collectives), has been mismanaged by enterprising bureaucrats with no interest in the arts .
When I worked at Kuona as an intern from 2015 to 2017, most of the exhibitions I attended were organized and/or sponsored by foreign business enterprises or foreign aid organizations. Apart from the Kenyan Art Fair sponsored by Sarit Center and the patronage of the National Museums of Kenya, we have allowed Kenyan art and artists to be the preserve of wealthy foreigners.
This came to a head in 2013 and 2015 when Kenya was awarded a pavilion at the Venice Biennale, perhaps the world's premier international visual art event. Of the seven artists who exhibited at the 2015 pavilion, six were Chinese and the only Kenyan present was based in Switzerland, held Swiss nationality and was a member of the Swiss Parliament.
The exhibition was also not sponsored by the government of Kenya but by an Italian artist Armanzo Tanzini, a hotelier in Malindi. In an article for Voice of AmericaTanzini is quoted as having invested thousands of dollars of his money in the exhibit, without which it wouldn't have happened at all.
This complete lack of government accountability has made Kenya the laughing stock of the global art world, with Chinese contemporary art professor Dr Wenny Teo declaring that the 2013 Kenyan pavilion at the Bienalle was "a chilling manifestation of neo-colonialism vulgarly presented as multiculturalism", and that it was "to be avoided like the plague".
The Rio 2016 Olympics, in which Kenya bought six gold medals and charmed the world, is another more vulgar example of public officials using entertainers and sportsmen as "stepping stones" for their advancement. . Despite this, some athletes like javelin thrower Julius Yego were unable to even make it to Rio in 2016 as their flights were not paid for or booked by the Ministry of Sports, Culture and the Arts.
Moreover, they wore mismatched kits during the opening ceremony of the Olympics, because their kit had been siphoned off, and they remained in a favela (slum in Brazil). Although they put Kenya on the world stage and won the hearts and minds of millions at the Olympics, these athletes were treated with disdain and contempt by the government.
The then Cabinet Secretary for Sports, Culture and the Arts, Hassan Wario, was found guilty of bribery, abuse of power and embezzlement of public funds. Thanks to this shameful display, one can agree with journalist Lily Kuo who said Kenya's best Olympics may also have been its most embarrassing.
But there is hope. The artist collective Kuona led the way, abandoning enterprising bureaucrats and detached boards of directors who (poorly) managed their affairs.
Kenya is back at the Venice Biennale, this time with genuine Kenyan artists who are active members of the local art scene, curated by Jimmy Ogonga and commissioned by Kiprop Lagat.
The Beijing Olympics are fast approaching and our national rugby team, the Simbas, are on course to qualify for the Rugby World Cup in France in 2029. This is a massive global event that promises to the Kenya Rugby Union an opportunity for visibility and investment.
So, as we usher in a new government this year, we must remember to hold the Department of Sports, Culture and the Arts accountable.