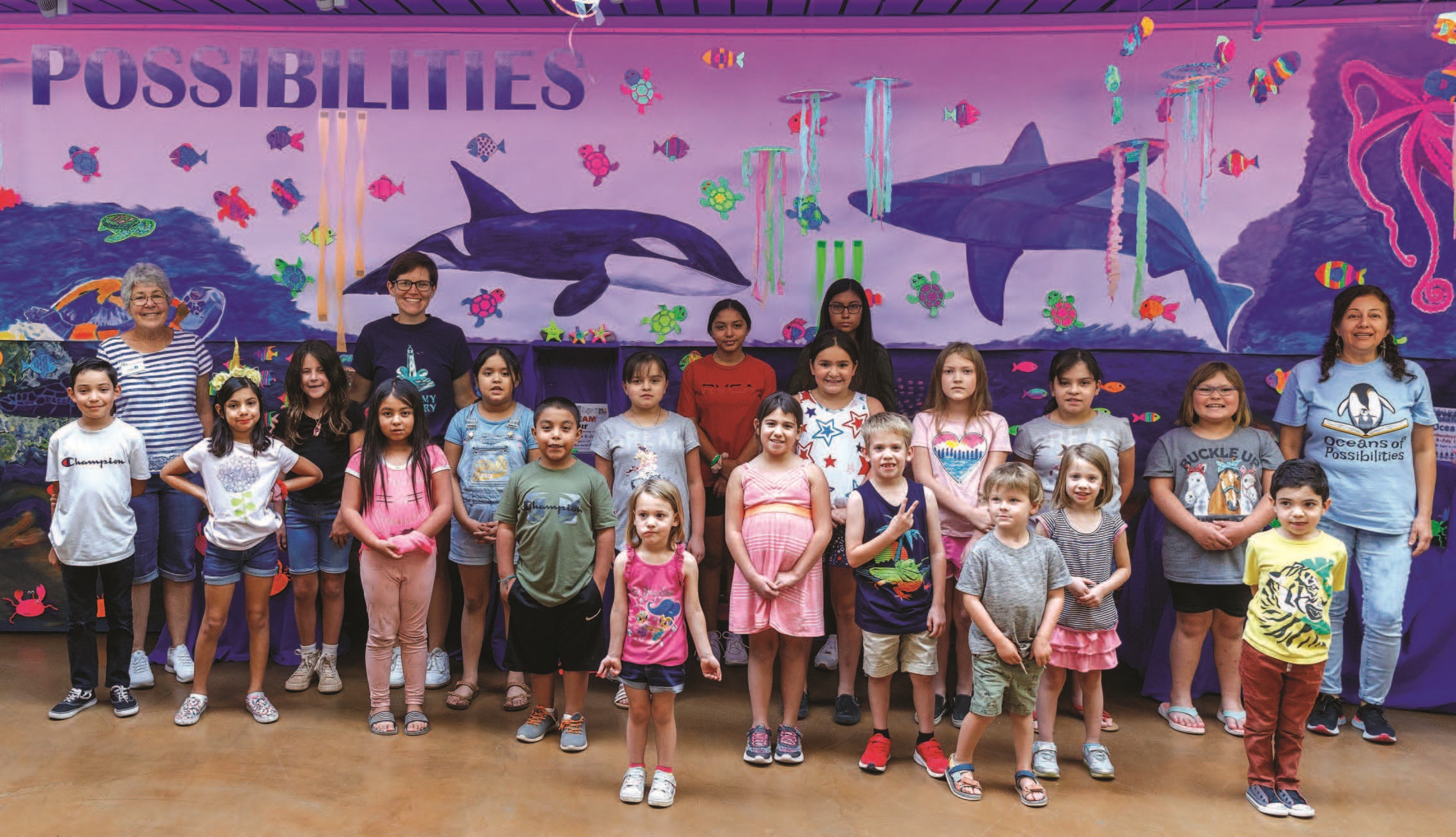 CV Library's 'Oceans' ends with a mural
The Camp Verde Community Library's "Oceans of Possibilities" summer reading program comes to an end after more than a month of arts activities, STEM classes and more.
On July 13, approximately 20 children, ages 4 to 12, arrived at the library for the final art activity creating their final pieces to hang on the library's "ocean" mural, designed by Camp Verde artist Mary Rush.
The children also met Rush for the first time, as she worked on the mural bit by bit at odd hours.
"It's been probably a good 20 hours," she said of her work, which involved multiple "power painting" sessions where she worked for five to six hours at a time.
"Painting like that takes a lot of energy, because you're constantly making decisions," she said. "I don't know if people realize that; I think they think that [artists] are just out there having fun, which is what we basically do, but we also use our brains.
Before designing the mural, which spans the entire length of the children's library's exterior wall, Rush said his largest piece measured just 60 inches by 60 inches.
Rush said the size, scale, and realistic nature of the paintings were the most challenging aspects of the work.
"It gave me confidence that I didn't know I could paint these things," she said. "I paint in a more abstract way and that's where I feel the best and most comfortable and have the most fun. Painting realistically was a challenge.
Some of Rush's realistic sea creatures include an octopus, a turtle and a shark, which she said used small photos as references. Another artist, Grace Maeder, painted an orca.
"She came in one day and saw me painting and asked if she could paint with me because she's a marine biologist," she said. "It was interesting and she did a great job."
Rush, Maeder and the kids used fluorescent paint for the project, which glows under a black light mounted above.
Some of the children said they were happy and proud of the work they did, while others commented that they enjoyed learning and working on their favorite projects, such as jellyfish and seahorses.
For now, the mural will remain hanging in the library, while Rush and others discussed what to do with it.
"My idea was that because it's on paper, they could roll it up and use it as a teaching tool; or it could generate revenue for the library," she said. "Maybe someone would like to buy the turtle; they could auction [pieces] like the octopus to make money. There are all kinds of things they could do.
Rush said the best part of the project was interacting with library visitors and seeing people participate in the project online.
"I came across a Facebook post; someone had taken a picture of the mural and posted it saying, "Have you seen this person and put it on display at the library? The library does such beautiful things.
"The community is very proud of this library," she says. "I wish they could make money and continue their great programs because they're doing really good things."