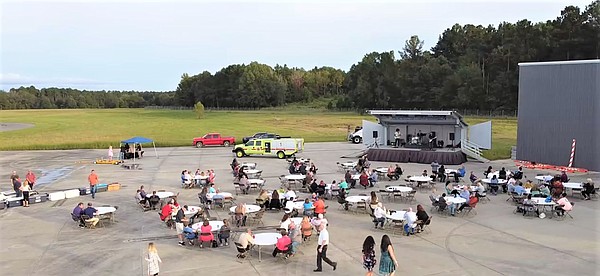 Community still unaware of airport and flight services, director says
Johnathan Estes, South Arkansas Regional Airport Manager at Goodwin Field, is looking for ideas on how to promote the airport.
Business After Hours took place on September 28 at SARA and attracted around 250 people.
The event was hosted by SARA, Southern Airways Express and the El Dorado-Union County Chamber of Commerce.
As he greeted and mingled with guests, Estes said he repeatedly encountered two comments he often heard from residents of El Dorado and Union County.
"'I didn't know El Dorado had an airport. I didn't know there was an airline here.' Do you have any idea how to market an airport? " Estes asked members of the El Dorado Airport Commission on Monday.
"It must be people in the city to use the airport. I've always been stuck in this loop of 'You don't bring people to the airport. You bring people to the city'," he said. he continued.
In addition to bringing people to the airport to fly with Southern Airways, the region's essential air services (EAS) carrier, Estes said he would like to encourage people to store their planes in one of the hangars. long-term SARA availability.
Southern Airways Express is based at SARA and offers flights to Dallas, Memphis, Hot Springs and Harrison.
Hot Springs and Harrison are also government funded EAS communities that are served by Southern Airways.
Southern began flying to El Dorado in 2017 to fulfill an unexpired contract that was canceled when its immediate successor, SeaPort Airlines, was ordered to shut down in September 2016 as part of a court order in as part of a bankruptcy filing.
Southern has since won two two-year contracts to serve as EAS for El Dorado. The current contract expires in 2023.
At an airport commission meeting on Monday, Estes reported that a total of 272 passengers boarded Southern flights in September to travel to Dallas, Memphis and Hot Springs.
He said Hot Springs reported 400 boardings for September and Harrison, 380.
"I think (…) it's in the city's best interest to advertise this airline. If we don't reach an average of 10 (passengers) per day, we lose the airline." , said Estes.
He noted that Southern Airways is responsible for selling to residents of the area.
Under its EAS contract, Southern offers 18 return flights per week, 14 to Dallas and four to Memphis.
Earlier this year, the airline added repeat flights on Saturday and Sunday as part of its "connect Arkansas" marketing campaign.
Passengers can now connect to Hot Springs, Harrison and Memphis via repeat flights on Saturdays and Sundays.
The airport commission has already contacted the Diamond Agency to find ideas for marketing the airport and its services.
Commissioners also said Monday that other plans, like the one proposed by the Arkansas Game and Fish Commission, would bring people to the airport.
The AGFC had offered to build a conservation education center on the airport property and the airport commission was enthusiastically on board.
The center would have been the first in South Arkansas and would have been open to the public with plenty of equipment and interactive features to educate visitors about nature.
However, the project was put on hold due to a change by the AGFC in the conceptual design which was favored by the Airport Commission.
Still, Estes said events like Business After Hours help raise awareness of SARA and Southern Airways.
Several people, some unexpectedly, will be packing for trips to Dallas and Cancun after winning airline tickets that were donated by Southern Airways Express at BAH.
Kristi Webb won the grand prize, a pair of return tickets to Cancun. Sonya Stooky bought a pair of return tickets to Dallas.
Participants in a paper airplane competition were to win model airplanes as prizes, but as the winners were about to be announced, Southern Airways announced that the first, second and third place winners would also take home. each two return tickets to Dallas.
The winners were Carson Mosby, Father Charles "Chuck" Chapman and James Faith.
Food and non-alcoholic beverages left over from the event were donated to The Salvation Army, whose staff and volunteers stood ready to collect the items.