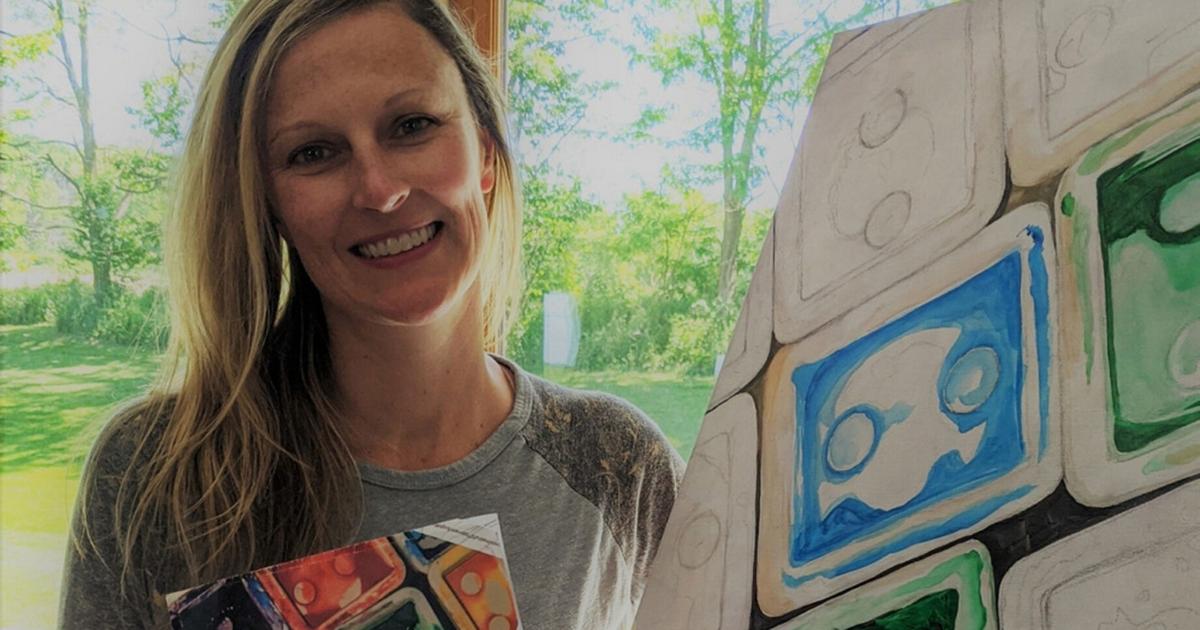 Avon art teacher apprenticed at mural festival | Lifestyles
AVON — While Liz Patteson will have summer like the rest of her fellow Avon Central Schools, that doesn't mean the high school art teacher will relax and unwind for the next 10 weeks.
In July, Patteson will serve as an apprentice artist under Ivan Roque, one of nine professional artists or teams of artists Livingston County has commissioned to create nine murals in each of its nine villages as part of of its 2022 county-wide mural festival.
"Livingston County Economic Development has been planning this for some time – I think I first heard about it two years ago," Patteson said. "I don't know how many apprentices are assigned to each artist, but for the week leading up to the July 9 ceremony, I work alongside him and help him put his mural on the wall."
Roque, a Cuban-American artist based in Miami, Florida, will paint his mural on the southernmost exterior wall of 79 Genesee St., which currently houses one of Assemblywoman Marjorie Byrnes' satellite offices. . The painting is set to take place July 2-9, and the public is welcome to stop by throughout the week to watch Roque create the mural.
In an email in May, Roque said he was excited to come to Avon and paint alongside another artist.
"It's always great to discuss ideas with other creatives and like-minded people," said Roque, who based his mural concept on the history of horse riding and animal husbandry. from Avon. "I think people are going to enjoy the subject, the color and the general movement of the whole piece. When it comes to painting murals, what I look forward to the most is the people that I will meet and the local culture of the city that I paint.
Roque is scheduled to give an artist talk at 6 p.m. July 7 at the Avon Park Theatre, 71 Genesee St. He is expected to talk about his inspiration and process.
Other specials include the screening of "Loving Vincent," described as the world's first oil-painted feature film. The film tells the story of Vincent Van Gogh and his death. Screenings are scheduled at 7:30 p.m. each night at the Avon Park Theater.
The LivCo Walls Mural Festival is coming to Genesee Street on July 9th. The street will be closed to traffic from 2 p.m. to 9 p.m. for interactive art, live music and entertainment, family activities, food, local beer, shopping, and the dedication of Roque's mural.
Patteson said she hopes to learn more about what it takes to create a mural while learning. If the experience proves instructive, Patteson said she may see herself taking on larger-scale mural projects in the future, perhaps even at Avon Central School.
"By working with him, I hope to gain the knowledge to hopefully be able to do mural work myself in the future," she said. "In the dining room there was a mural that they got rid of and they want to update it with the art around the school, but going big is not something I'm going with. I have experience, so I'm not comfortable saying 'yes' to any of this yet.
Roque's mural will be unveiled at the Avon Mural Festival on July 9. Other art-centric activities are planned for the day that Patteson hopes some of his art club members will also get a chance to take part in.
"They want to do sidewalk chalk art, rock painting, face painting and a little public mural like 'paint by number,'" she said.
Interactive arts activities accompany the Avon 9th of July Mural Celebration, along with live music, food from local restaurants, craft drinks, vendor sales, and lots of fun for the kids.
INTERACTIVE ARTS ACTIVITIES START AT 2:00 p.m.
not Paint by Number Community Mural with Avon High School Art Club
not Wall poster with Avon Free Library
not Paint your own cookie wall with The Cake Place
not Pottery demo with Studio Sales Pottery
not Knitting class + knitting circle with Knit One and Done
not Wood Crafts with Geek Chic Floral Boutique
not Mini photo shoots with Oak + Stone Photography
not East Avon Presbyterian Church watercolor painting
not Cave painting with Avon NY Rocks
not Sidewalk showcase with Visit LivCo
not Plus, sidewalk chalk art, face painting, henna designs and more!
LIVE MUSIC AND PERFORMANCES
not 2 p.m. Music by DJ Bob D'Angelo
not 2:30 p.m. Performance Avon Dance Emporium | Genesee Street
not 3 pm Shake on the Lake: comedy improvisation, music and puppets | Avon Park Theater
not 5 p.m. Wall dedication | 79 Genesee Street
not 5:30 p.m. to 9 p.m. Bob's Brother's Band | Genesee Street (bring a lawn chair or blanket)