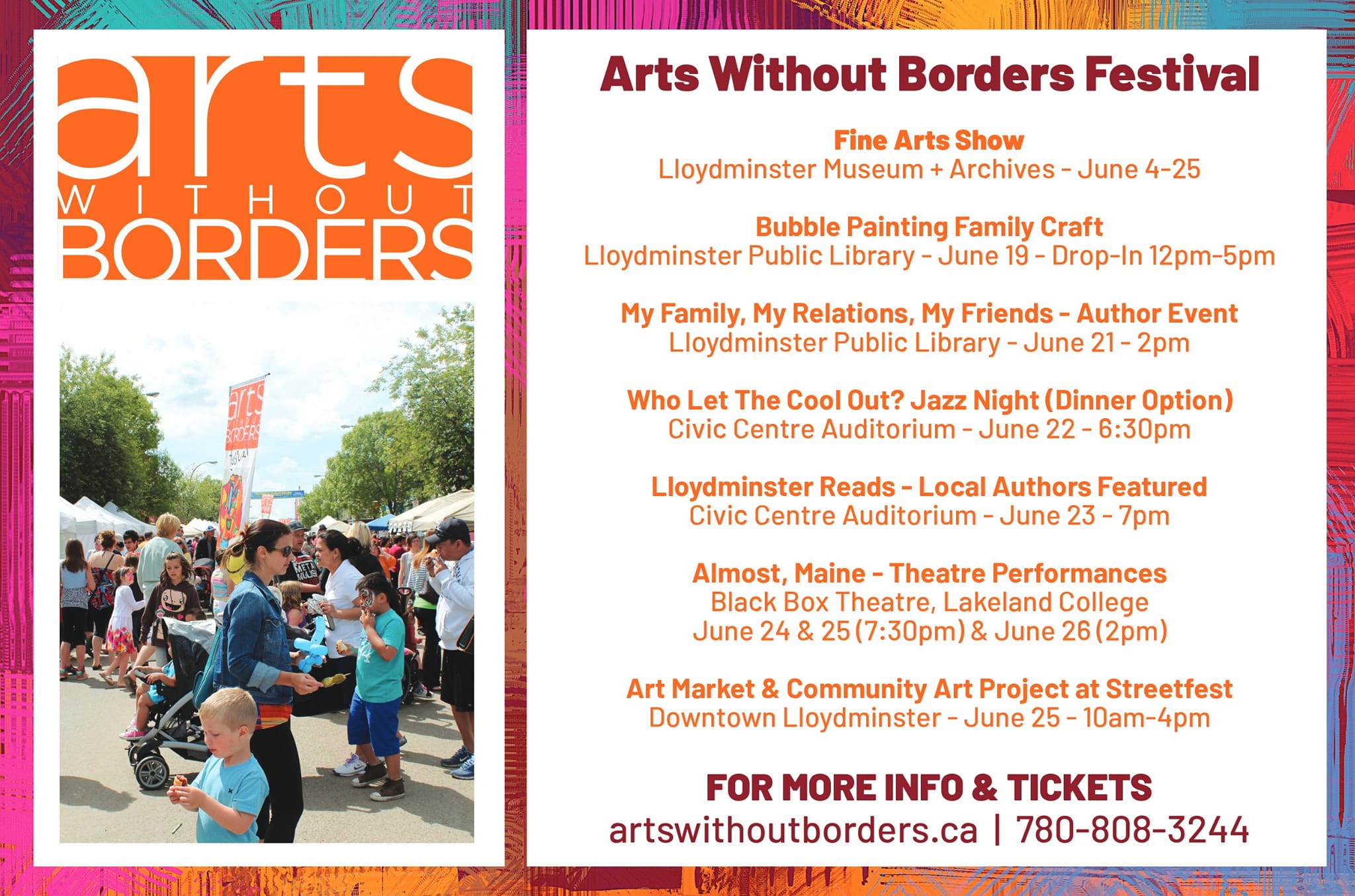 Arts Without Borders Week returns
Cool Jazz, Streetfest, book readings and art exhibits are just a few of the highlights Arts Without Borders Festival week is back in full swing.
Board member Gwen Mottram says they are delighted to be back as she talks about the fine art show that runs all week at the Lloydminster Museum and Archives.
"It contains over 150 pieces; paintings, sculptures and photographs. This is much larger than in previous years.
The fine arts show features pieces from Alberta and Saskatchewan and includes a juried art exhibition, youth art and photography. It ends on Saturday. Mottram says they're asking people to go to the museum and vote for the People's Choice Award as well as participate in the scavenger hunt. The artists' prizes will be awarded on Sunday.
Arts activities will run throughout the week with Tuesday author meet and greet Frederick John Turner of Onion Lake at the Lloydminster Museum in the LloydMall.
Turner will launch his book, "My family, my relations, my friends" coinciding with Indigenous Peoples Day. He will discuss his book and share stories with a book signing to follow. This event is at 2 p.m.
Wednesday will be the themed jazz night, "Who Let the Cold Get Away" featuring the local musicianship of Ross Ulmer on trombone, Barrie Redford on trumpet, Trent Block Hanson on keyboards, John Brace on guitar, Connor Sturge on drums and Evan Davis on bass. This musical treat begins at 7:30 p.m. at the Centennial Civic Center Auditorium Mottram says the accompanying dinner that begins earlier is already sold out.
Thursday night is Lloydminster bed with five authors offer book readings. Commonwealth Writers Award Recipient Marina Endicott returns for readings of his novel "The Difference". Local authors Pat Hankey, Mike Champagne, Helen Row Toews and Cindy Mckerchar writing as Cynthia Keyes are also honored. Lloydminster Reads is at the Centennial Civic Center Auditorium from 7 p.m.
Friday night the stage lights will come on at the Black Box Theater, Lakeland College as 19 thespians give the Midwest region a "Almost Maine." This play "is a series of nine lovingly absurd vignettes about love, with a touch of good-natured magical realism. A beautifully structured piece, with clever surprise endings; most but not all happy. writes the New York Times. Almost Maine operates until Sunday starting at 7:30 p.m. on Friday and Saturday with a matinee at 2 p.m. on Sunday.
The outdoor celebrations will hit hard on Saturday for the return of Downtown Street Festival at the Olivier car park. The festivities will include an art market and a community art project.
"It's a play on the word Lloyd. Everyone in the community can come and decorate the letter and it will be installed in the community and it will be a photo shoot or an Instagram photo opportunity for people. There will be a missing "L", and this is where people will be encouraged to stand and it will spell "Lloyd".
Details on the Downtown Street Festival which begins with a pancake breakfast at 8 a.m. can be found on the city's webpage. It includes live entertainment, food vendors as well as the vendors market and lots of activities for kids and family.
More details and updates on Arts Without Borders Week are available on their social channels.