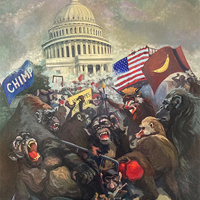 Art exhibitions | visual arts
"Horse Power" – 6-9 p.m. October 27, Artist Angle Gallery, 124 S. Carroll St., Frederick. New paintings by Rebecca Pearl. 240-285-3758 or theartistangle.com.
"Breathtaker: the revolutionary graphic novel, from concept to comic" – until October 29, McDaniel College, Esther Prangley Rice Gallery at Peterson Hall, 2 College Hill, Westminster. Featuring original artwork in conjunction with the remastered edition of Mark Wheatley and Marc Hempel's acclaimed graphic novel "Breathtaker". Features over 90 original artworks and explores the creative and physical processes undertaken during the original production of the "Breathtaker" comic book in the 1990s, as well as how the artwork was re-adapted over the stages of preparation for the reissue of Titan Comics. Release. 410-857-2595 or estherprangleyricegallery.com.