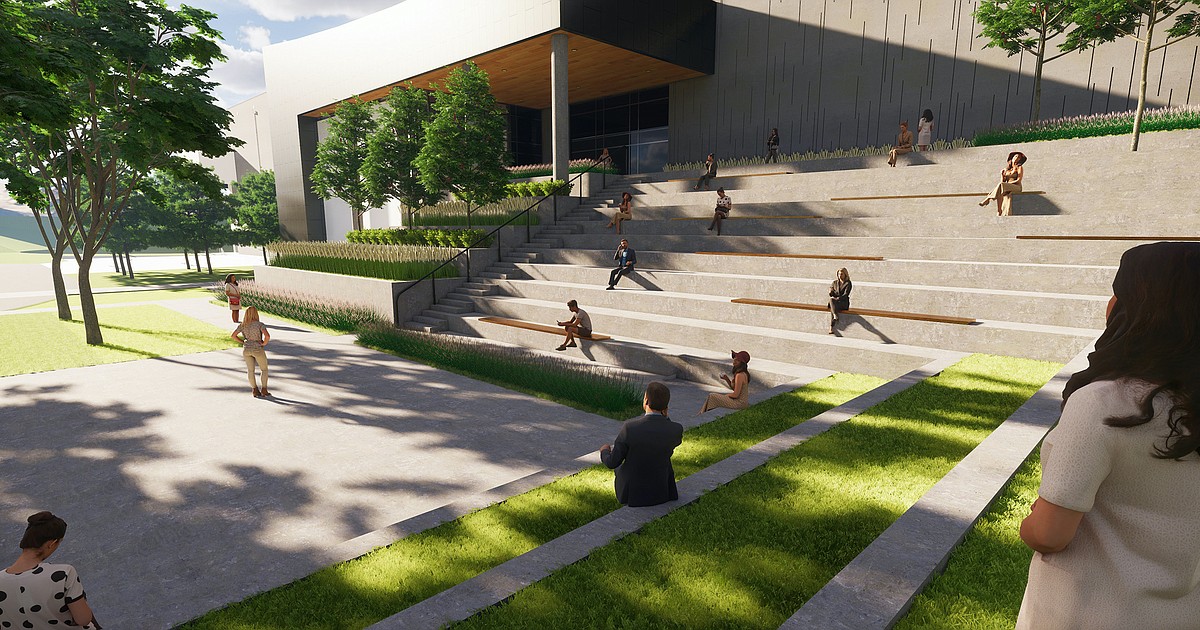 An overview of Wachholz College Center
Flathead Valley Community College and the community of Flathead Valley are on the edge of their seats as finishing touches are put on the expansive Paul D. Wachholz College Center, the new performing arts and activity center at the cutting edge of college technology.
The Center's website, wachholzcollegecenter.org, went live last week and tickets for the first performances and programs went on sale July 22.
It's the culmination of a construction project that began in April 2020 and the start of an evolution of cultural arts opportunities for the Flathead Valley and the entire Northwest, said Matt Laughlin, director of the College Center.
"It's an exciting time for College Center," said Laughlin, who served as production manager and then manager of Seattle's prestigious Benaroya Hall for 14 years.
"All the work we've put into creating this lineup of freshman shows, curated for our local and regional audiences, is finally live and ready for everyone to see," he said. "Excitement is building towards our opening later this fall."
Initial funding for the project came from a $4 million gift from longtime Flathead businessman and realtor Paul D. Wachholz. The FVCC board had voted unanimously to approve a $25,670,866 offer in April 2020 from Swank Enterprises with a built-in contingency. Construction began shortly thereafter.
Funding for the building comes primarily from donor support – around $22 million to date. Even with rising construction costs, so far the project has been on budget. Although the operating cost plan is not finalized, these costs will likely be covered by future revenues.
In mid-October, the FVCC is planning community engagement activities to showcase the new facility.
"We would like to do free tours, open houses and possibly local artist showcases," Laughlin said while guiding Inter Lake on a tour of the center.
The 58,000 square foot facility was built with cutting-edge and dynamic architectural plans designed by Cushing Terrell Architects. Laughlin said it will serve the community and students for many years as a regional center for arts and entertainment, as well as a hub for sporting events, client events and trade shows.
The property's main entrance opens into the spacious Jane A. Karas Ballroom (named after the current FVCC President), which serves as the link between the Stinson Family Event Center and McClaren Hall, a 1,014-seat performing arts center designed with advanced acoustics. and flexibility to host concerts, conferences, dance performances and musical theater productions. The auditorium has approximately 740 seats on the ground floor and 274 on the balcony, with boxes on both levels.
"You get the feeling how grand it is, but also how intimate it's going to be," Laughlin said.
The performance hall features a spacious stage supported by a 50ft wall, an orchestra pit that can be converted to more seats or more stage as needed, a huge projection screen, a flight system and a curtain stage for dance and theater productions. The hall is complete with a loading dock, plenty of storage and green spaces.
McClaren Hall will host the Glacier Symphony, which celebrates its 40th season this year. The first performance of the symphony will be Beethoven's "Ode to Joy" on November 19 and 20.
The center also includes the Wanda Hollensteiner Art Gallery to host rotating art exhibitions for professional and student artists, the Swank Recital Hall for smaller, intimate ensembles or functions, and a variety of classrooms for music education and seven practice rooms to enhance the FVCC music department. , including a keyboard classroom whose windows echo the design of piano keys.
On the other side of the WCC is the Stinson Family Event Center. It houses a yoga and Pilates studio, locker rooms, showers, a fitness center and a full-size basketball and volleyball court – space that can be used to host trade shows, events private and conferences for about 400 people. The gym space will lend itself to future student events and continuing education programs, as well as FVCC Foundation events and sit-down dinners.
"There's also a well-integrated sound system in this space, so we can easily open up a stage with a music stand and have a speaker here," Laughlin said.
McClaren Hall, which is partially below ground level, and the Stinson Event Center at ground level, are designed so that events can occur simultaneously without interruption.
The Jane A. Karas Gymnasium and Ballroom open to an east-facing courtyard and patio, as well as the outdoor O'Shaughnessy Amphitheater, terraced lawn, soon-to-be-developed performance space with a natural backdrop of magnificent mountain views.
"One thing that's really good is that they've delivered enough power here that we can have performances in the summer months," Laughlin said. "We are planning to put cocktail tables on the patio space and people are watching from here too. It's quite grand.
Laughlin said the college eventually hopes to incorporate Broadway-style musicals and larger productions.
"This is just the beginning," he said.
"I have always seen this place as a symbol of a great door that opens and allows more of the community to enter the campus," he continued. "The college already has a good connection with the majority of the community but, for those who are unfamiliar, the hope is to get a lot more people to see what is happening and maybe catch a show. what they want to see. We are here to serve everyone and build a fuller and stronger calendar of family, educational and cultural arts events.