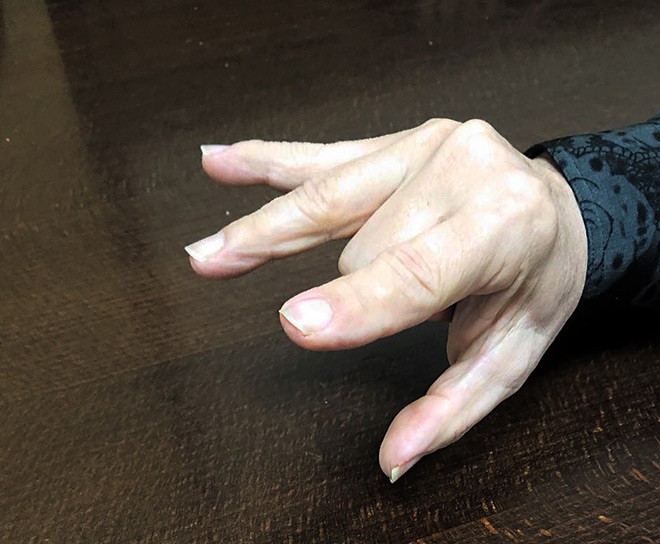 A new medical association to help performers
Professional guitarist Shiki Nagashima developed symptoms of dystonia in his right hand around 2001.
"I felt like there was a little bird flying around in my right hand," said Tokyo-based Nagashima, 61.
Upon closer inspection, he discovered that his middle finger had curled into his palm and could not be unrolled.
Dystonia prevents patients from voluntarily moving parts of their body even when there is nothing wrong with the muscles or bones.
The illness led Kentaro Kobuchi of "Kobukuro" (a popular singing duo) to suspend his activities for a while.
"Some musicians have stopped playing because of dystonia," Nagashima said. "Many others must suffer like me."
Little is known about the causes of these diseases, and the public does not show much understanding towards them.
Nagashima visited an osteopathy clinic and a hospital and tried various therapies, only to find that he was still unable to function as he wanted.
He began treatment in earnest in 2017 after a guitar manufacturer referred him to Naotaka Sakai, an orthopedic surgeon based in Tokyo.
Nagashima said he played the guitar in front of the doctor while undergoing treatment – which included Chinese herbal medicine, an anti-anxiety medication and rehabilitation – until he could move his finger again.
It is common for performers, who need to gently maintain their bodies, to develop symptoms that could be described as occupational diseases, such as tenosynovitis, muscle and joint pain.
However, many patients avoid the hospital because it would mean taking days off. Daily practice is essential in the world of performing arts.
Some patients are therefore reluctant to see a doctor or receive treatment for fear of the impact it could have on their performance, officials said.
Musicians could also have their careers compromised by certain illnesses whose symptoms may seem mild to an outside observer.
A group of doctors and dentists set up a Japan Performing Arts Medicine Association (JPAMA) in July to treat instrumentalists, singers and dancers with physical or mental health issues who can no longer perform or dance as they wish. .
"It would be fantastic if JPAMA could give performers the opportunity to receive proper treatment," Nagashima said.
JPAMA's target audience includes instrumentalists, singers, vocalists, as well as ballet artists and other dancers.
There are medical associations in Western countries that cater to the therapeutic needs of musicians.
Sakai, one of the initiators of JPAMA, and others who provided care for musicians proposed to create JPAMA in Japanese version.
The association will organize medical practitioners from various specialist fields, including orthopaedists, dentists, neurologists, a psychiatrist and an ophthalmologist.
They will work together to support musicians, diagnose their illnesses, treat them and conduct preventive research.
Amateur musicians and dancers will also be eligible for JPAMA treatment, officials said.
Some 50 medical specialists from across Japan are expected to join JPAMA, whose website will provide information on available medical institutions.
JPAMA organizers hope to provide appropriate therapies tailored to each patient's needs so that they can remain active as a performer.
The organizers have collected funds for the association's activity on a crowdfunding platform until April 22 under the title of the project "Towards the establishment of specialized medical care adapted to the needs of artists: Implementation of JPAMA," with the goal of raising 3 million yen ($23,900).